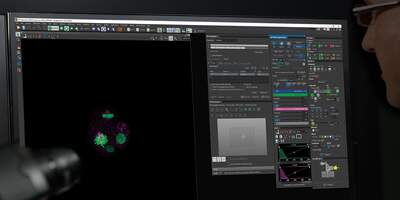 NIS-Elements
Imaging Software
Compatibility
Please check with your local Nikon support representative for system compatibility.
There also may be geographical differences in device support.
Nikon Devices & Cameras
Microscopes and Accessories
ECLIPSE Ti-E
ECLIPSE MA200
ECLIPSE LV150 Series, LV100D, LV100 POL

All Nikon motorized components (FMA, Episcopic Illuminator, Nosepiece, etc.)
All Nikon motorized components (Focus, XY Stage, ND Filter Unit, Nosepiece, Condenser, Field Diaphragm, etc.)

Nikon AZ100/AZ00M
Illumination: Intensilight E
Nikon DUV-B Tunable GaAsP Detector for A1 and C2si-R

Nikon Ti-LAPP DMD (digital mirror device)
Mightex Polygon 400 dynamic spatial light modulator
Bruker XY Miniscanne

Nikon C2+
Nikon N-STORM Super-Resolution
Nikon Ti-LAPP HTIRF
CrEST XLight Spinning disk
ECLIPSE i-Series 90i (Legacy)
ECLIPSE TE2000E, TE2000E2, TE2000-PFS (Perfect Focus System) (Legacy)
Digital Imaging Heads (DDH-E (motorized) and D-DH-M) (Legacy)
Keysight 4 Line Monolithic Laser Module (USA and Europe Only) (Legacy)

Cameras and Controllers
Digital Sight Cameras: DS1000, DS10, DS50M, DS-Fi3, DS-Ri2, DS-Qi2, DS-Fi2 (U3, L3) DS-Fi1 (U2, U3, L2, L3), DS-Ri1 (U2, U3, L2, L3), DS-Qi1 (U2, U3, L2, L3), DS-Vi1 (U2, U3, L2, L3)
Digital Sight Cameras: DS-Ri1, DS-Qi
Digital Sight Cameras with Legacy* Support: DS-2Mv, DS-2MBW, DS-2MBWc, DS-2Mv(U2), DS-2MBW, DS-2MBWc, DS-5M (U2), DS-5Mc (U2)
Controllers: U3, L4, L3
Controllers with Legacy Support: L2 , U2
Other Cameras & Devices
Some models may not be supported by NIS-Elements. Please contact Nikon for details.

Cameras
Teledyne Photometrics CoolSnap Dyno, Evolve Series, Prime 95B, Prime 95B 25mm, Prime BSI, IRIS
Lumenera 1-2CB and 1-3C (Legacy)
Hamamatsu ORCA ER Firewire Camera, C9100-12, C9100-13, R2, ORCA-Flash2.8, Orca-Flash4.0, Orca-Flash LT, ORCA D2, ImagEM, ImagEM-1K, ImageEM2
Andor Neo sCMOS, DU-888, Zyla 5.5 and 4.2 sCMOS (Zyla via USB3) iXon X3, iXon+ (models 897, 888, 885,860), iXonEM, iKon-M, Clara, Luca S, Luca R
Imaging Source Cameras
Inspectis F30 and U30
PCO Cameras - pco.edge 4.2, pco.edge 5.5, pco.edge 4.2 LT, pco.edge 3.1, pco.edge gold 4.2, pco.edge gold 5.5, Dual pco.edge sCMOS
Optional
Stages

Prior ProScan II, ProScan III, OptiScan III, ES10ZE, Z-Deck
Applied Scientific Instrumentation (ASI) MS-2000
Ludl MAC 5000 / MAC 6000 Controller
Märzhäuser: Tango, LSTEP, ECO-STEP
Scientifica XY Linear Stage

Filter Wheels

Prior Filter Wheel System
Sutter Wheels, Shutters, Controllers: Lambda 10-2, 10-3, 10-B
Applied Scientific Instrumentation (ASI) FW-2000
Ludl MAC 6000 Controller
Finger Lake Instrumentation Filter Wheel (USA Only)
Crest Optics Filter Wheel

Wavelength Switching/ Excitation System

Sutter DG 4 / DG 5 (Ultra-High Speed Wavelength Switcher)
Nikon LUSU (Laser / Shutter Unit)
Lumencor Spectra, SpectraX, Aura, AuraII, LIDA
89North Heliophor

Shutter Control

Uniblitz Shutter Controller VCM-D1
Sutter: Smart Shutter Standalone Controller Lambda SC
Applied Scientific Instrumentation (ASI) SC-2000
Ludl MAC 6000 Controller

Z Motors

Nikon Motorized Z-Focus Accessory (RFA)
Prior Z-motor, ES10ZE, NIKRFK
Applied Scientific Instrumentation (ASI) MS-2000
Physik Instrumente Piezo E-665 (RS232)
All Piezo devices accepting analog voltage input
MCL Nanodrive
Physik Instrumente E-545, 662, 665, 712, 861, 867 piezo controllers

Camera Emission Splitters

Optical Insights Dual View, Quad View

Illumination
High Speed I/O

National Instruments DAQm series controllers (PCI, PCIe, and PXI formats) e.g. NI6723, 6353, 6221, 6733, 6713, 6711, 6229

Heating Controllers
Incubators

OKOLab Microscope Incubators
Tokai Hit Microscope Incubators
LCI CU-501 Controller (LCI Chamlide)
*Nikon will provide Legacy support for certain camera and devices. This support is limited and additional development or changes to the drivers is not available.