Nikon Europe BV und alle Nikon Niederlassungen in Europa beobachten aktuell sehr genau alle Entwicklungen rund um das Corona Virus COVID-19. Selbstverständlich werden alle durch die Regierungsorganisationen erlassenen Richtlinien von uns strikt befolgt.
Erfahren Sie mehr über die von uns getroffenen Maßnahmen.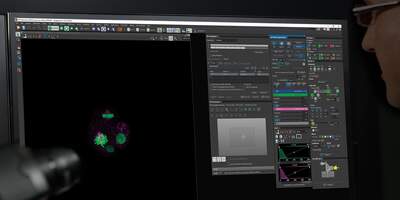 NIS-Elements
Imaging Software
Kompatibilität
Nikon Devices & Cameras
Mikroskope und Zubehör
Eclipse Ti-E
Eclipse MA200
Eclipse LV150 Series, LV100D, LV100 POL

Alle motorisierten Nikon-Komponenten (FMA, Auflicht-Illuminatoren, Objektivrevolver, usw.)
Alle motorisierten Nikon-Komponenten (Fokus, XY-Tische, ND-Filtereinheiten, Objektivrevolver, Kondensoren, Leuchtfeldblenden, usw.)

Nikon AZ100/AZ00M
Beleuchtungseinheit: Intensilight E
Nikon DUV-B Durchstimmbarer GaAsP Detektor für A1 und C2si-R
Nikon Ti-LAPP DMD (Digital Mirror Device)
Mightex Polygon 400 dynamic spatial light modulator
Bruker XY Miniscanner
Nikon Konfokales Mikroskop C2+
Nikon N-STORM Super-Resolution
Nikon Ti-LAPP HTIRF
CrEST Spinning Disk XLight
Eclipse i-Series 90i (Vorgängergerät)
Eclipse TE2000E, TE2000E2, TE2000-PFS (Perfect Focus System) (Vorgängergeräte)
Digital Imaging Heads (DDH-E, motorisiert und D-DH-M) (Vorgängergeräte)
Keysight 4 Linien Monolithic Laser Modul (nur in USA und Europa) (Vorgängergerät)

Kameras und Kontrolleinheiten
Digital Sight Kameras: DS-Fi3, DS-Ri2, DS-Qi2, DS-Fi2 (U3, L3) DS-Fi1 (U2, U3, L2, L3), DS-Ri1 (U2, U3, L2, L3), DS-Qi1 (U2, U3, L2, L3), DS-Vi1 (U2, U3, L2, L3)
Digital Sight Kameras: DS-2Mv, DS-2MBW, DS-2MBWc, DS-1QM, DS-Ri1, DS-Qi
DS-2Mv(U2), DS-2MBW, DS-2MBWc, DS-5M (U2), DS-5Mc (U2)
Controllers: U3, L4, L3, L2 (Vorgängergerät), U2 (Vorgängergerät)
Andere Kameras & Geräte
Kameras
Photometrics CoolSnap Dyno, Evolve Serie, Prime 95B, Prime 95B 25mm, Prime 95B 22mm, IRIS
Lumenera 1-2CB and 1-3C
Hamamatsu ORCA ER Firewire Kamera, C9100-12, C9100-13, R2, ORCA-Flash2.8, Orca-Flash4.0, Orca-Flash LT, ORCA D2, ImagEM, ImagEM-1K, ImageEM2
Andor Neo sCMOS, DU-888, Zyla 5.5 and 4.2 sCMOS (Zyla via USB3) iXon X3, iXon+ (Modelle 897, 888, 885,860), iXonEM, iKon-M, Clara, Luca S, Luca R
Imaging Source Cameras
PCO Cameras - pco.edge 4.2, pco.edge 5.5, pco.edge 4.2 LT, pco.edge 3.1, pco.edge gold 4.2, pco.edge gold 5.5
QImaging Retiga R1 (mono)
Optionen
Tische

Prior ProScan II, ProScan III, OptiScan III, ES10ZE, Z-Deck
Applied Scientific Instrumentation (ASI) MS-2000
Ludl MAC 5000 / MAC 6000 Controller
Märzhäuser: Tango, LSTEP, ECO-STEP
Scientifica XY Linear Stage

Filterräder

Prior Filter Wheel System
Sutter Wheels, Shutters, Controllers: Lambda 10-2, 10-3, 10-B
Applied Scientific Instrumentation (ASI) FW-2000
Ludl MAC 6000 Controller
Finger Lake Instrumentation Filter Wheel (USA Only)
Crest Optics Filter Wheel

Wellenlängenwechsel-Systeme für Anregungslicht

Sutter DG 4 / DG 5 (Ultra-High Speed Wellenlängenwechsler)
Nikon LUSU (Laser / Shutter Einheit)
Lumencor Spectra, SpectraX, Aura, AuraII, LIDA
89North Heliophor
CoolLED pE-300ultra, pE-340fura, pE-4000

Verschlüsse (Shutter), Controller

Uniblitz Shutter Controller VCM-D1
Sutter: Smart Shutter Standalone Controller Lambda SC
Applied Scientific Instrumentation (ASI) SC-2000
Ludl MAC 6000 Controller

Z-Motoren

Nikon Motorisiertes Z-Focus Zubehör (RFA)
Prior Z-motor, ES10ZE, NIKRFK
Applied Scientific Instrumentation (ASI) MS-2000
Physik Instrumente Piezo E-665 (RS232)
Alle Piezo-Geräte mit analogem Spannungseingang
MCL Nanodrive
Physik Instrumente E-545, 662, 665, 712, 861, 867 piezo controllers

Emissionslicht-Aufspaltungsgeräte für Kameras

Optical Insights Dual View, Quad View
Cairn Research Optosplit II, Optosplit III, Multisplit V2, TwinCam, MultiCam

Illumination
High-Speed I/O-Controller

National Instruments DAQm series controllers (PCI, PCIe, and PXI formats) e.g. NI6723, 6353, 6221, 6733, 6713, 6711, 6229

Heiztisch-Controller
Inkubatoren

OKOLab Microskop-Inkubatoren
Tokai Hit Microskop-Inkubatoren
LCI CU-501 Controller (LCI Chamlide)
Life Imaging Services (LIS) Cube & Brick
Bitte kontaktieren Sie Ihre lokale Nikon-Vertretung bei Fragen zur System-Kompatibilität
Es können jenach Region/Land Unterschiede in der Kompatibilität mit Geräten/Komponenten von Drittanbietern bestehen.

Operating Environment
Operating System
For specific requirements please discuss with your local Nikon representative.