Nikon Europe BV und alle Nikon Niederlassungen in Europa beobachten aktuell sehr genau alle Entwicklungen rund um das Corona Virus COVID-19. Selbstverständlich werden alle durch die Regierungsorganisationen erlassenen Richtlinien von uns strikt befolgt.
Erfahren Sie mehr über die von uns getroffenen Maßnahmen.
Immersionsöl
Transparentes Öl mit hoher Brechzahl für die Mikroskopie
Mit Immersionsöl wird die Auflösung des Lichtmikroskops erhöht, indem der Luft-Raum zwischen Deckglas und der Spitze eines Immersionsobjektivs ersetzt wird durch ein Medium mit höherer Brechzahl als Luft. Dadurch gelangen stärker gebrochene Lichtstrahlen (aus der Probe), die in Luft am Objektiv vorbei gingen, in das Immersionsobjektiv, und können so zur höher aufgelösten Bildgebung beitragen.
Nikon stellt vier Typen von Immersionsöl für die Mikroskopie her. Diese Öle wurden speziell für den Gebrauch mit Nikon-Objektiven entwickelt; deshalb kann Nikon nicht für die Eignung seiner Öle beim Gebrauch mit Objektiven anderer Hersteller garantieren. Umgekehrt muss beim Gebrauch von anderen als Nikon-Ölen mit Nikon-Objektiven streng darauf geachtet werden, dass entsprechend der Brechungsindex und der Dispersionswert des "fremden" Öls zu den Eigenschaften der Nikon-Objektive passt. Eine Fehlanpassung ("missmatch") bewirkt eine Beeinträchtigung der Abbildungsqualität, wenn nicht sogar eine Beschädigung des Objektivs. Es ist auch wichtig zu erwähnen, dass Immersionsmedien niemals untereinander gemischt werden sollten, da immer eine Beeinträchtigung der Qualität daraus resultiert.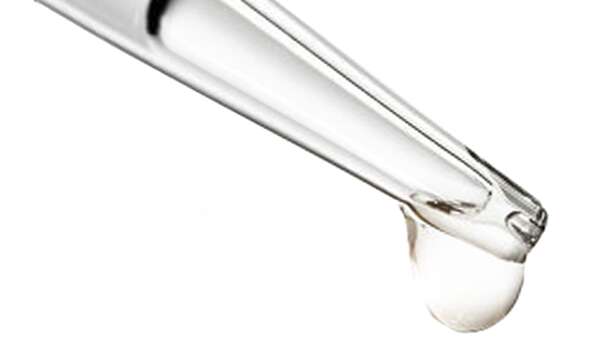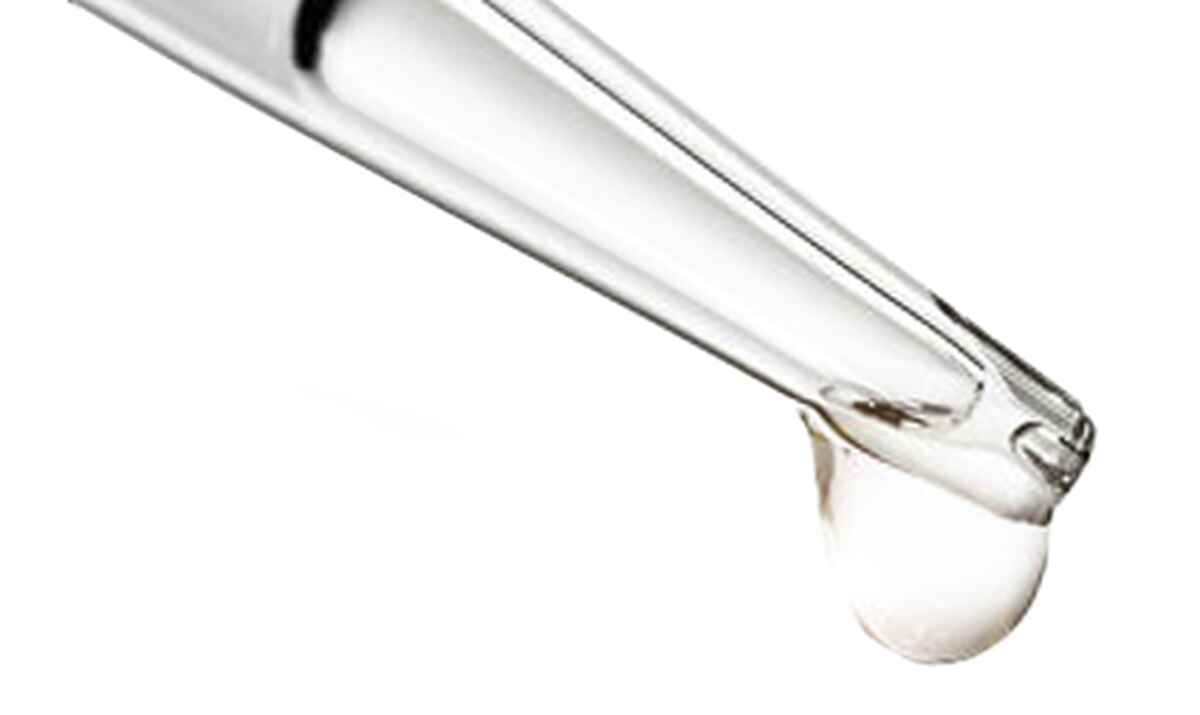 ---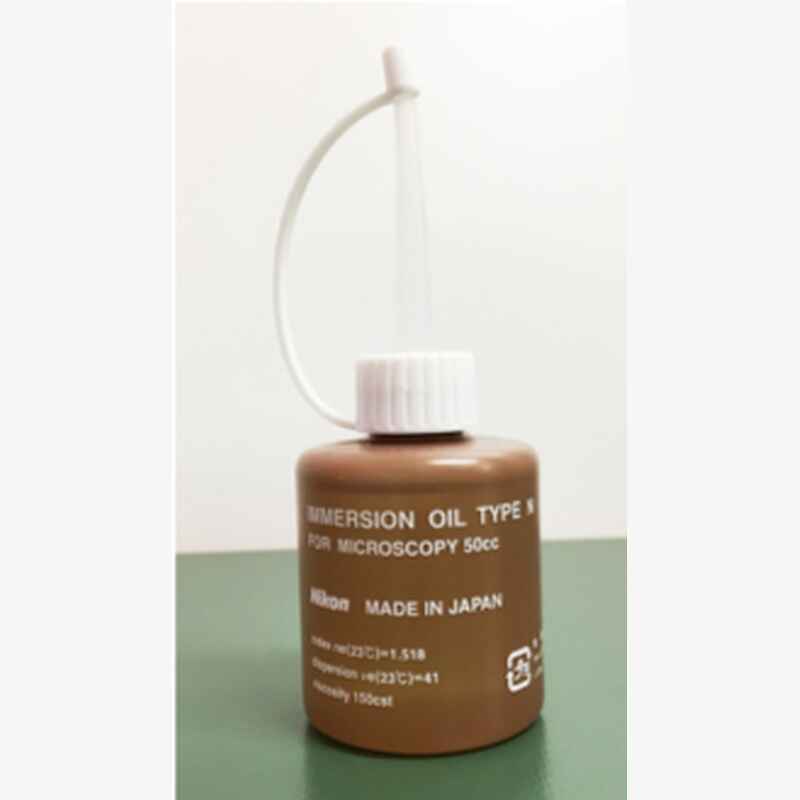 Type N
Type N is a general purpose oil recommended for transmitted light applications, including brightfield, darkfield, DIC and phase contrast. It is available in 8ml (squeeze bottle), 50ml (squeeze bottle) and 480ml (bottle with pipette) quantities.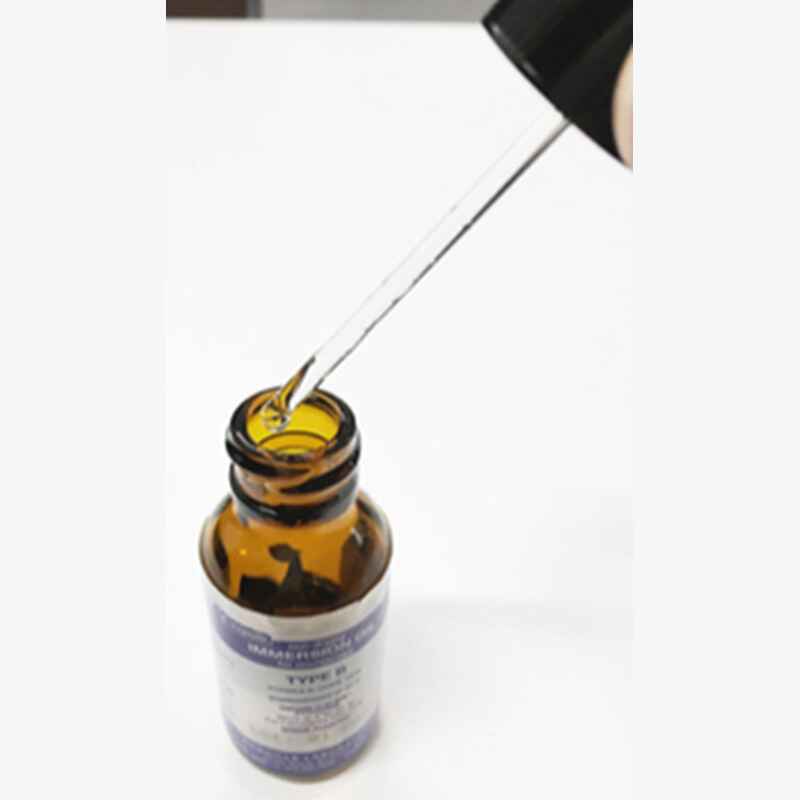 Type B
Type B is compatible with Nikon's Perfect Focus System (PFS) and is recommended for transmitted light-based time-lapse imaging experiments. Type B is available as a 30ml bottle (glass rod is included for dispensing).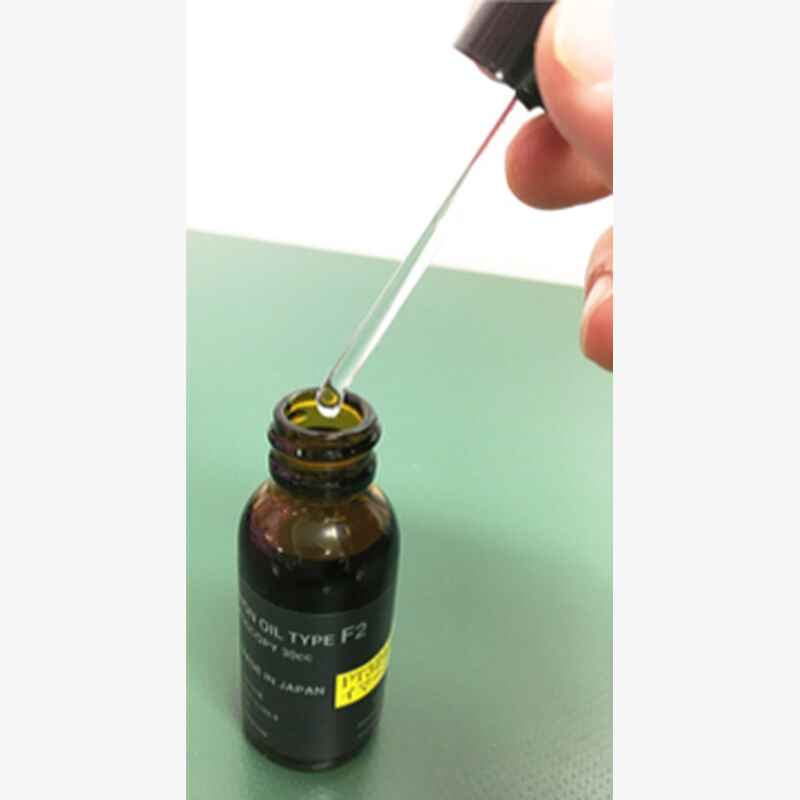 Type F2
Type F2 is a successor of immersion oil Type F. This oil is designed to ensure the highest image quality for fluorescence applications, with maximal signal-to-noise ratio and minimal autofluorescence. Type F2 is also compatible with Nikon's Perfect Focus System (PFS), enabling drift-free, long, time-lapse imaging experiments. Furthermore, this oil provides improved viscous characteristics and reduced odor compared to Type F. Type F2 is available as a 30ml bottle (glass rod is included for dispensing).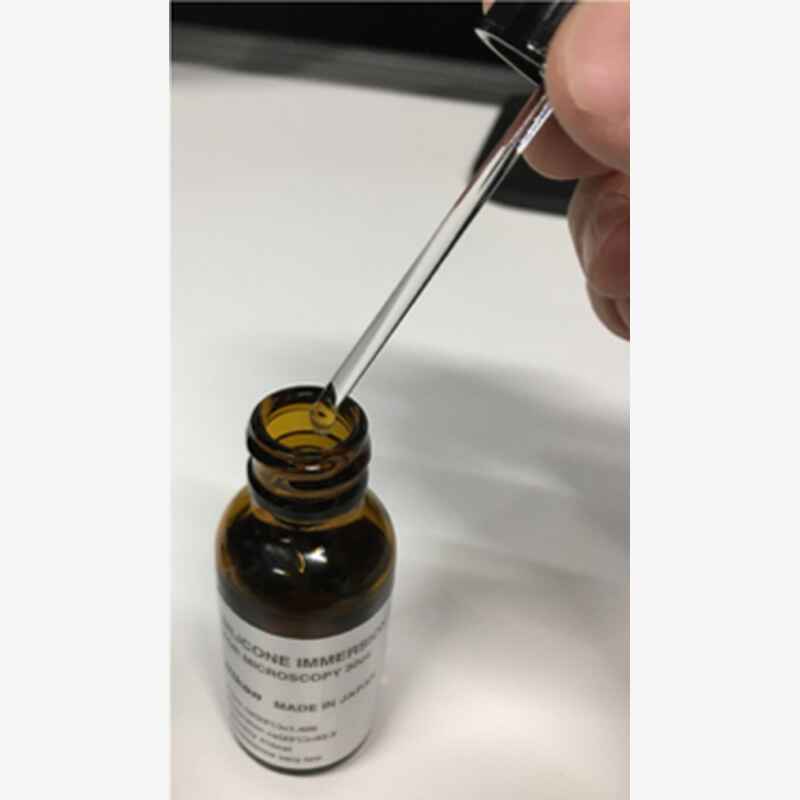 Silicone
Silicone immersion oil is used for deep observations of live specimens.
Silicone oil (ne≒1.40) closely matches the refractive index of cells (ne≒1.38) thereby minimizing spherical aberration when imaging through thick biological samples, resulting in bright, high-resolution images. Unlike water, silicone oil exhibits virtually no evaporation even at 37˚C, enabling extended, long time-lapse experiments without the need to replenish immersion medium. Silicone oil is available as a 30ml bottle (glass rod is included for dispensing).