Polarized Light Microscope
A compact polarized light microscope that balances optical performance and ease of use.
Slim and compact, the Eclipse Ci-POL is a personal-type polarized light microscope that doesn't occupy your entire desk. With cutting-edge CFI60 infinity optics, it offers advanced optical performance and user-friendly operation. A built-in capture button located near the front of the microscope base allows easy imaging with DS series cameras
Excellent cost effective and precision manufacturing is balanced with superb basic performance in a standard level polarized light microscope.
Focus stroke has been improved to 30mm, facilitating observation of tall samples.
Clamp-type upper limit focusing mechanism makes for easy and safe sample exchange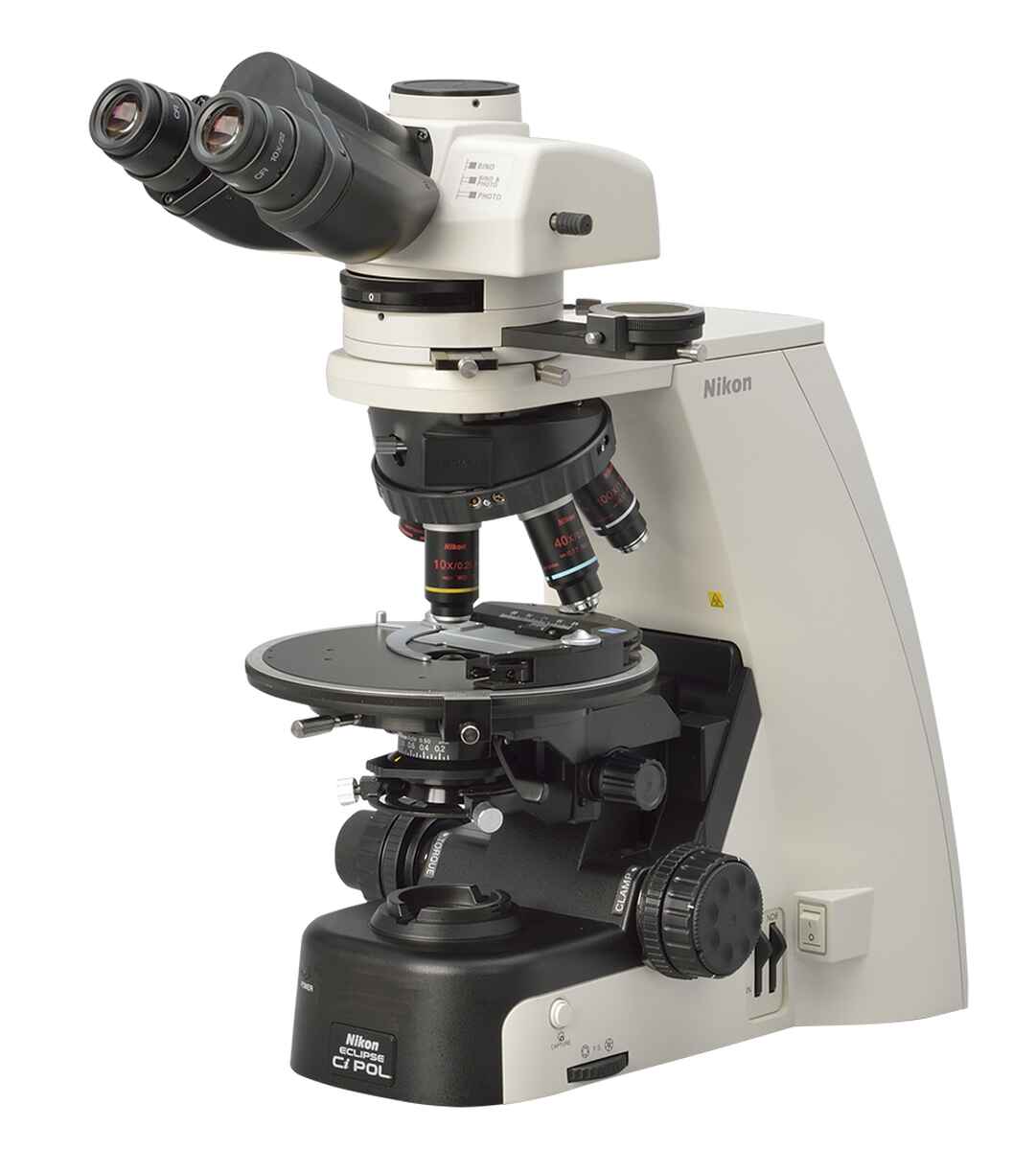 ---
Key Features
Reversed centering quintuple nosepiece
The nosepiece uses the same DIN standard compensator slot design as the LV100N POL to accept various compensators for advanced quantitative measurements. All five objectives are centerable.
---
Intermediate tube
The intermediate tube incorporates a Bertrand lens as standard, enabling both observation and capture of conoscopic and orthoscopic images.
---
Objectives for polarizing observation
The industry-acclaimed infinity optics - the CFI60 system - successfully delivers long working distances and high NA to produce sharp aberration-free images. They employ an eco-glass that is manufactured with no harmful substances such as lead and arsenic.
The episcopic objectives are from the newly developed CFI60-2 series and produce sharp aberration-free images regardless of magnification.
---
Diascopic/Episcopic illumination type
Both diascopic and episcopic polarized light observation are possible by mounting the LV-UEPI-N universal epi-illuminator.
The epi-illuminator uses the high-intensity 50W lamp as standard, which provides brighter illumination than a conventional 100W lamp. A noise-terminator mechanism is employed to provide sharp images with high S/N ratios.
---