Nikon Instruments Launches New Eclipse Ti-E Fully-Integrated, Motorized Inverted Microscope
Nov 1, 2007
Nikon-Exclusive Perfect Focus System and High-Speed Motorization Meets Biology, Medical and Pharmaceutical Science Research Needs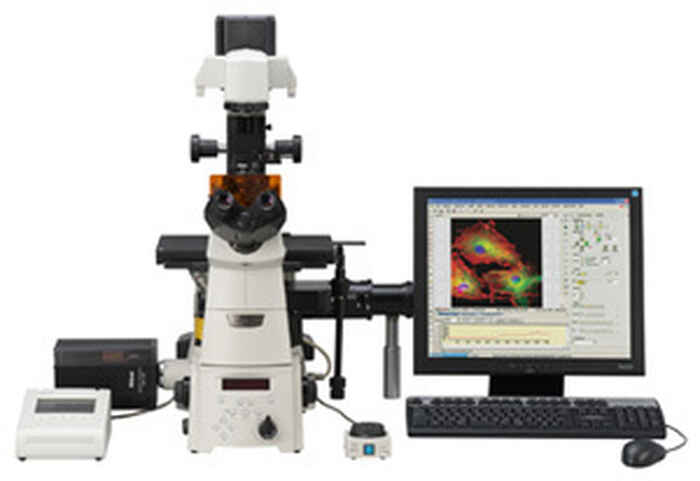 Nikon Instruments, Inc. (http://www.nikoninstruments.com//) has combined streamlined component automation with speeds more than twice that of previous Nikon inverted microscopes with the launch of the Eclipse Ti-E inverted research microscope. The Ti-E offers advanced functionality, which now includes the fully-integrated Nikon Perfect Focus System (PFS) and high-speed motorization capacity for improving long- term, live cell imaging for biological, medical and pharmaceutical science research.
Built for speed and flexibility, the Ti-E has faster components that can be intelligently controlled in parallel through NIS-Elements software, providing exceptional image data throughput and enabling multi-dimensional image capture sequences that produce less damage to cells. Specifically, operational and switchover speeds for objectives, filter cubes, Nikon motorized stages and excitation/barrier filter wheels have been greatly enhanced and the communication speed has been increased.
For the first time ever, Nikon's PFS has been incorporated into the motorized nosepiece unit, increasing the modular expansion capabilities of the Ti-E's expanded infinity optical structure for illumination input or image data output. Through real-time focus correction, and a unique optical offset system, focus is maintained during long-term, time-lapse observation or even when reagents are added, eliminating focus drift caused by thermal differences. Other key features of the updated PFS include 52 objective choices and an expanded fluorescence spectral range of 340-750nm, creating options for using FURA dyes, IR probes, or Q-Dots technology in addition to multi-photon imaging and optical trapping techniques.
"Through Nikon's unique PFS, researchers can be assured of ultra-stable focus for multi-dimensional, long-term, time-lapse images of living cells," said Stan Schwartz, vice president of Nikon Instruments. "When combined with the acquisition of high-temporal data at diffraction-limited spatial resolution, this makes it possible to study the fluorescence dynamics of living cells -- at extraordinarily high speeds and with complete confidence."
Like the rest of the Ti Series, the Ti-E utilizes Nikon's NIS-Elements software, which allows operations from advanced image acquisition to analysis and measurement by integrating control of microscope, camera and peripherals. Furthermore, when combined with the newly-introduced Nikon motorized stages and motorized filter wheels, NIS-Elements software on the Ti-E also enables exceptionally well integrated and fast acquisition of multipoint, multi-color time-lapse imaging and Z-axis data capture.
Additional new features include a "full intensity" external phase contrast system, which is incorporated into the microscope body, rather than in the objective lens, thereby producing very little light loss. Through the efficiency of the light usage, it allows for observation and capture of phase contrast images with high numerical aperture specialty objectives, such as the APO TIRF NA 1.49 series, without limiting fluorescence throughput.
Utilizing its unique modular two-story optical design stratum structure, various illumination and contrast methods are available and add to the Ti's flexibility and interchangeability for both routine and unique research applications. For instance, the Ti offers five different kinds of fluorescence illuminators, supporting cutting-edge research using new FRET ratio, TIRF imaging or photo activation technologies. Additionally, multiple camera ports, which can be outfitted with the Digital Sight series high- performance CCD cameras or other manufacturers' quantitative camera systems, facilitate the full range of image and data capture capabilities. Using Nikon's CFI60 advanced optical technology, the Ti is capable of detecting single molecule fluorescence with the highest throughput and contrast available. The Ti-E is especially suitable for fully-automated confocal microscopy and is the ideal platform for this technique in principal investigator labs and core imaging facilities alike.