Nikon Introduces the AZ100 Multizoom Microscope
Oct 13, 2006
New Multi-Purpose Macro/Micro Microscope for Biomedical and Industrial Applications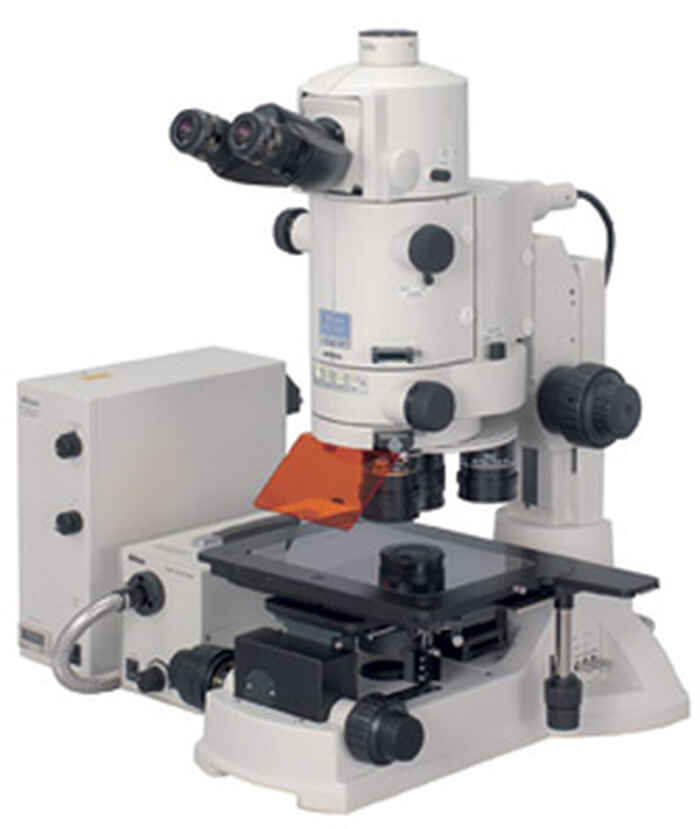 Nikon Instruments Inc., a leader in the development of advanced optical technology, today announced a new solution for macro imaging applications for biomedical and industrial markets. The Nikon AZ100 Multizoom microscope is a macro/micro high performance microscope system that provides capabilities that don't currently exist with stereo zoom microscopes and compound high magnification microscopes.
Key features of the AZ100 Multizoom include a wide field of view, long working distances and a high resolution capability. A broad range of observation techniques are supported and include EPI/DIA-DIC, DIA-BF & Oblique, EPI-FL, EPI-RL EPI/DIA-Simple POL. The AZ100 has a wide magnification range from 5 to 500x and a unique zooming magnification optical system with a ratio of 8:1, the triple place nosepiece allows a variety of new objective lens to be attached. Capturing digital images is easy using Nikon's NIS-Elements software and Nikon Digital Sight cameras.
"Nikon's new AZ100 Multizoom microscope is an ideal choice for bioscience and industrial applications where multi-purpose wide field of view to high magnification applications are now common," said Stan Schwartz, vice president, Nikon Instruments. "The AZ100 fits neatly between stereo zoom and compound high magnification microscopes and bridges the gap that had previously existed. Now complete studies of whole animals to single cells are possible on one instrument platform."
Nikon's AZ100 Multizoom microscope features unique to the industry telecentric optics which creates images of the same size for objects at any distance and has a constant angle of view across the entire field. Because these images have a constant magnification and geometry, telecentric lenses are excellent for metrology and analysis applications when it is necessary to determine the precise size of objects independently from their position within the FOV.
Nikon's AZ100 Multizoom microscope has a zoom aperture diaphragm located at the back focal plan of the objectives lens resulting in a consistent telecentric image across the entire zoom range. Nikon's new macro objectives significantly reduce chromatic aberration and the unit's aperture diaphragm is linked to the zoom optical system to obtain the optimum contrast for each magnification ratio.
The AZ100 Multizoom supports a range of observation methods with its telecentric zoom optical system from low magnification ratio observation methods, such as macro low magnification DIC, to observation in the micro medium magnification ratios for high optical efficiency. A separate optical path for EPI-FL eliminates auto fluorescence from the zoom portion and makes observation of ultraviolet excitation fluorescence imaging possible. Because of this unique optical system, the AZ100 is the only microscope of its kind to offer true Differential Interference Contrast observations (DIC) in both reflected light and transmitted light paths in the low to mid magnifications ranges with extremely even illumination fields as well as Epi-Fluorescence techniques.
In biomedical sciences, the AZ100 Multizoom microscope supports applications for both mid- magnification biomedical microscopes and biomedical stereos microscopes and is particularly well suited for developmental biology such as systems biology and regenerative medicine. In the industrial environment, the AZ100 is well suited for applications such as failure analysis in the quality assurance and quality control departments. The AZ100 Multizoom features interchangeable components with Nikon's LV series of microscopes and enhances ergonomic productivity by featuring a trinocular tilting tube, highly precise base and arm mounted double focusing system and optional motorized zoom and focus systems. The new diascopic transmitted light stand is stable and rigid and built specifically for the AZ100 Multizoom microscope providing ergonomic high performance imaging capabilities.