Nikon Instruments and Belozersky Institute of Physico-chemical Biology at Lomonosov Moscow State University open a new Nikon Centre of Excellence
Oct 10, 2015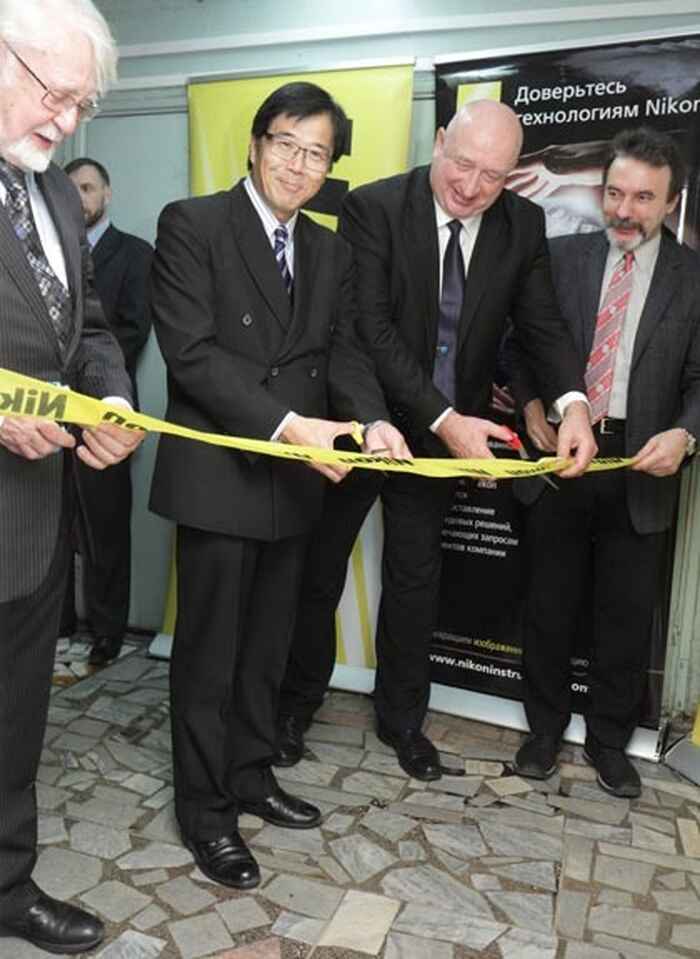 Learn more about our Centre of Excellence at the Belozersky Institute of Physica-chemical Biology
On Friday, 9th of October, 2015 Nikon Instruments and Belozersky Institute of Physica-chemical Biology at Lomonosov Moscow State University, opened the new Nikon Centre of Excellence in Super Resolution Microscopy and Correlative Light and Electron Microscopy. While Super Resolution is a revolutionary microscopic method enabling the observation of much smaller details than previously possible especially in cell biology, correlative approachel enable researchers to get even deeper insight into complex cellular organization at nanoscale.
The Centre at the Belozersky Institute of Physica-chemical Biology at Lomonosov Moscow State University, has been equipped with the following Nikon Biological High End Systems:
• N-SIM combined with the TiE inverted research microscope. Nikon's N-SIM super resolution microscopy system uses structured illumination techniques to produce images with twice the resolution of conventional optical microscopes. With 2D, 3D and TIRF imaging modes, the Nikon N-SIM allows sub-cellular structures to be clearly imaged at speeds of over 1 frame per second.
• N-STORM super resolution system combined with the Ti-E motorized inverted research microscope. Nikon's N-STORM system uses localization microscopy technique to achieve 10-times gain in resolution compared to conventional optical microscopy thus opening the door into true nanoimaging of sub-cellular structures with simultaneous observation of up to four different targets.
• Research inverted Nikon Ti-E microscope equipped with award winning Perfect Focus System (PFS) designed to continually maintain focus by eliminating mechanical, temperature and other sources of drift, it enables capturing time-lapse images for 24 hours and beyond. The Ti-E platform, the market leading motorized inverted research microscope, designed as a flexible and stable platform for all high end and live cell imaging applications, is combined with the Nikon C2+ confocal system and high-sensitivity EM-CCD camera.
The systems are all equipped with the latest in software innovation that will contribute to the breakthrough of the next generation of microscopic biological research.
The Centre will enable:
• Access to the cutting-edge microscopic technologies and equipment, especially Super Resolution.
• Training in advanced light microscopy for scientists and PhD students.
• Develoment of new approaches and instruments for bioimaging applications, especially for correlative light and electron microscopy.
The Nikon Centre of Excellence was opened by Prof. Skulachev, Director at Belozersky Institute of Physico-chemical Biology, who announced: "The purpose of the centre is to promote research in the field of bioimaging combining the expertise of the world leading manufacturer and the scientific skills of the researchers at Belozersky Institute of Physica-chemical Biology. I believe that together we will be able to succeed on this way towards new achievements in biomedical research".
Mr Sumio Eimori, president of Nikon Europe, in his speech, highlighted that Nikon will soon celebrate the 100th anniversary of the company and not only Nikon's past, but also its future focus and strategy is very important for Nikon. Enabling the use of High End microscopy systems in the advanced laboratories enables Nikon to show all their capabilities and contributes to further product development and scientific discoveries.
Nikon Instruments and Belozersky Institute of Physico-chemical Biology at Lomonosov Moscow State University open a new Nikon Centre of Excellence