News Room Subscribe via: RSS, ATOM Next Article News Home Previous Article Nikon Instruments Showcases New Cutting-Edge Inverted Research Microscope at American Society for Cell Biology Annual Meeting
Dec 5, 2016
New Eclipse Ti2 Inverted Research Microscope transforms how researchers capture data with its doubled field of view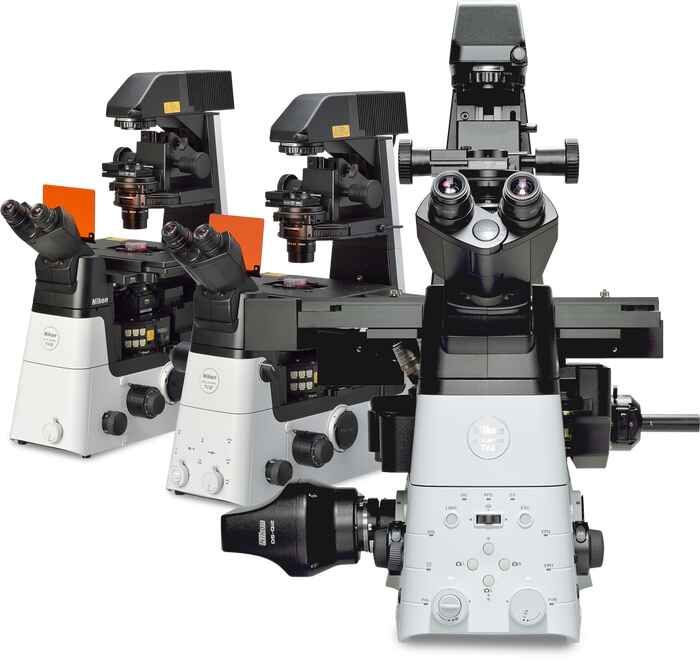 Nikon Instruments Inc., innovator of advanced optical instruments, is showcasing three models of the all-new Eclipse Ti2 Inverted Research Microscope at the American Society for Cell Biology Annual Meeting 2016 in San Francisco this week. Equipped with an unpreceded 25mm field of view, improved stability, speed and usability powered by an intelligent microscope operation guide, this groundbreaking microscope allows users to conduct research more quickly and efficiently than before. The ECLIPSE Ti2 will be featured as the core imaging platform for a variety of imaging applications including multi-angle TIRF, photostimulation, confocal, multiphoton and super-resolution. Conference attendees will be able to explore the benefits of the new Ti2 microscope as well as the latest enhancements in each of the imaging applications at Booth #623.
The ECLIPSE Ti2 succeeds the ECLIPSE Ti Inverted Research Microscope, which has become a standard in many laboratories for live-cell imaging. The groundbreaking 25mm FOV was enabled by enlarging various optical components including the tube lens and fluorescence filter cubes and utilizing fly-eye lens technology to ensure uniform edge-to-edge illumination and flat field imaging of the enhanced FOV. Furthermore, the Ti2 incorporates a fourth-generation Perfect Focus System (PFS4) which improves upon the industry leading auto-focusing mechanism and provides an ultra-stable imaging platform. Combined with a newly redesigned Z-drive for high-speed precision stacking, the Ti2 provides a fast, ultra-stable imaging experience that will enhance both super-resolution and diffraction-limited imaging applications. The microscope also offers intelligent functions to guide users through imaging workflows by gathering data from internal sensors – eliminating the possibility of user errors. The large FOV imaging capability of the Ti2, the intelligent Assist Guide, as well as new Ti2 accessories such as the auto correction collar (ACC) will be on display.
Even more from Nikon Instruments
CREST X-Light for High Content Confocal Imaging. Users can accelerate high throughput data acquisition with Nikon's latest high-speed, drift-free inverted stand, the ECLIPSE Ti2. They can also combine with fast confocal imaging to gain more information from high content screens.
Simultaneous Dual Angle TIRF with Accessible Back Aperture for Laser Alignment. The new Ti2 microscope allows users to safely visualize the back aperture for TIRF alignment. Dual TIRF illuminators allow for simultaneous angle adjustments for multi-color TIRF experiments.
Miniscanner for fast FRAP or photo-conversion experiments. This can be combined with the new Ti2 microscope and other imaging modalities, such as TIRF and spinning disk, for cutting edge live-cell imaging applications.
Yokogawa CSU-W1 spinning disk for live-cell confocal imaging. When combined with Nikon's latest inverted research microscope stand and 4th generation Perfect Focus System (PFS4), the CSU W1 spinning disk allows for cutting-edge live-cell imaging.
Super-resolution systems N-STORM and N-SIM with new Ti2 for ultra-precision. The new Ti2 inverted research microscope with N-SIM and N-STORM provides ultra-stable, high precision super-resolution imaging. The Ti2's new auto correction collar allows users to achieve perfect point spread functions and gain maximum performance from the super-resolution objectives. Cell-friendly super-resolution system N-SIM doubles the resolution of conventional light microscopy and is well-suited for multi-channel, live-cell imaging. N-SIM innovations include three modes for imaging (TIRF, 2D and 3D) and new, intuitive reconstruction workflows. N-STORM 4.0 provides 20nm resolution, Z-stacking, and fast-mode for live cells.
A1r-MP Multiphoton Confocal System with Enhanced Resolution. The system comes equipped with high-speed resonant scanner for capturing dynamic events, GaAsP detectors for enhanced sensitivity, and ER module to enhance confocal resolution. It also features a new 10x objective for clearing applications and dual IR laser inputs for fast, two-color multiphoton imaging up to 1300nm
Ts2 and Ts2R compact inverted microscopes. The Ts2 tissue culture microscope features integrated LED light sources, streamlined operation, and a plastic-compatible emboss contrast technique. The Ts2R offers an intermediate-sized microscope platform designed for a wide variety of applications including live cell imaging and IVF. Intuitive to use, both products were winners of the iF Gold Award for streamlined design.
Flexible Illuminators and Laser Combiner for Multimodal Imaging. LAPP modular illuminators allow users to flexibly combine applications that include TIRF, FRAP, photo-stimulation, confocal, and super-resolution. The LUNV solid-state laser combiner is permanently aligned. It comes with a choice of eight different lasers and five output fibers for true multimodal imaging.
ASCB 2016 attendees are invited to experience all of the above systems and products at Nikon's Booth #623.
News Room Subscribe via: RSS, ATOM Next Article News Home Previous Article Nikon Instruments Showcases New Cutting-Edge Inverted Research Microscope at American Society for Cell Biology Annual Meeting