Nikon introduces all new Spatial Array Confocal (NSPARC) Detector for AX
Feb. 1, 2023
This expansion for the AX / AX R series of confocal microscopes enables high-resolution deep tissue imaging with remarkable clarity.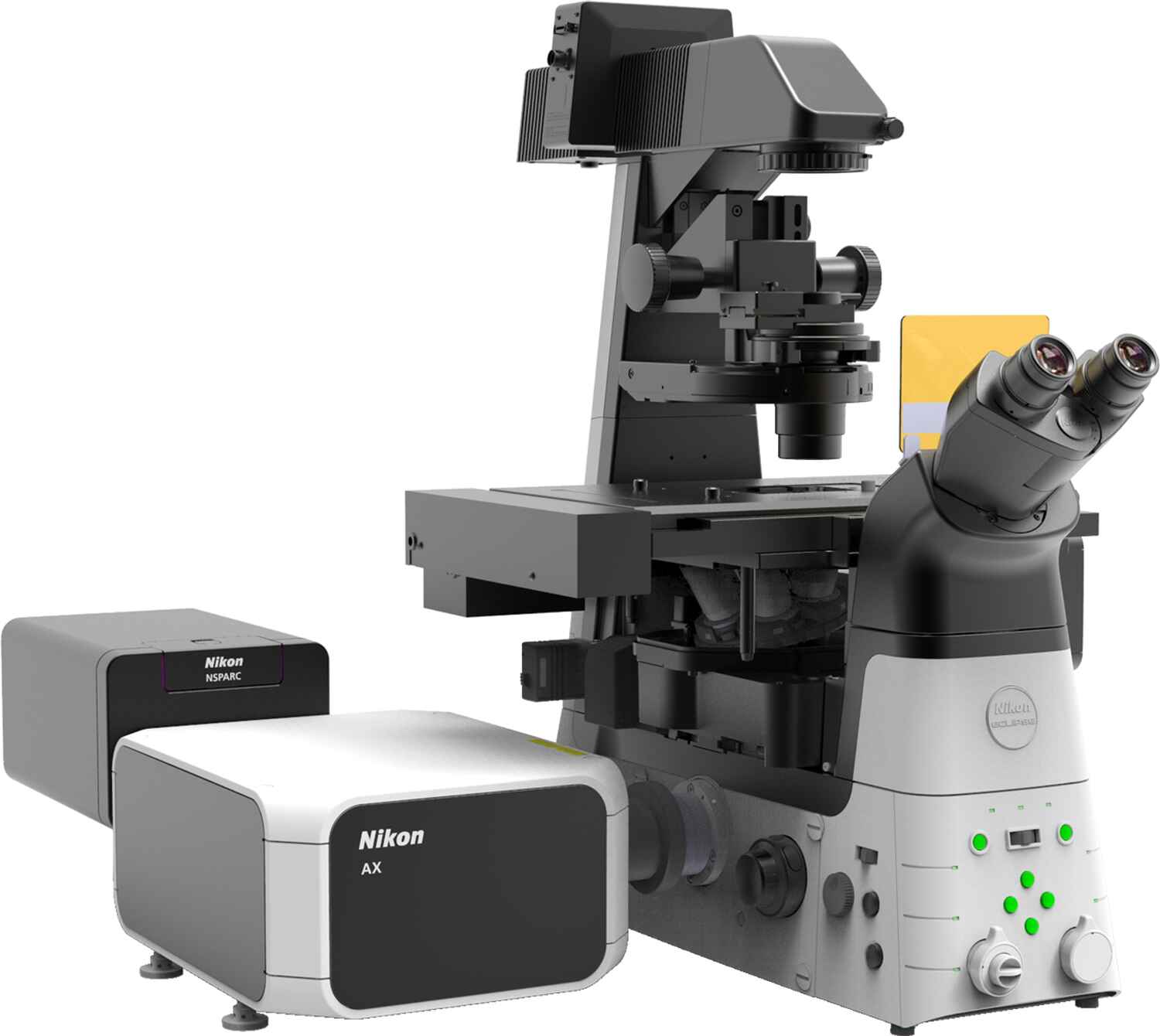 AMSTELVEEN, THE NETHERLANDS — Today, Nikon Europe B.V. announced the Nikon Spatial Array Confocal (NSPARC) detector for AX systems. The newly developed confocal detector system utilizes an ultra-low noise detector array for point-scanning confocal data collection, improving signal-to-noise ratio and thus allowing imaging at lower excitation power. This enables high-resolution imaging of live tissue with minimal phototoxicity. Scheduled for release at the beginning of February 2023, this product will be used in combination with AX or AX R confocal microscopes (released in 2021)*1.
*1. Compatible microscopes: ECLIPSE Ti2-E inverted research microscope, ECLIPSE FN1 physiology microscope, and ECLIPSE Ni-E motorized upright research microscope
Release Overview
| | |
| --- | --- |
| Product Name | NSPARC super-resolution unit |
| Release Date | Beginning of February, 2023 |
Development Background
Drug development, neuroscience, immunology, and cell biology research fields have experienced an increased need for greater capabilities in high quality observation of live cells, tissues, organs-on-a-chip*2, and other applications. To address these needs, Nikon designs and develops microscopes that push the limits of conventional optical technologies and contributes to numerous studies where high-resolution imaging is required.
Recently, Nikon released the AX and AX R confocal microscope systems, which can acquire clear, highly resolved images over a large field of view. Now, Nikon has developed the NSPARC detector, which further enhances AX and AX R's capabilities for fast and low phototoxicity imaging. Specifically, NSPARC represents an all-new level of low noise detection, producing very high signal-to-noise ratio images with single photon sensitivity. NSPARC provides optical resolving power beyond traditional limits, which combined with point-scanning, allows it to be used for high resolution applications beyond those of other super resolution techniques, such as structured illumination microscopy.
*2. Organ-derived cells cultivated in a minute flow path on a chip simulating an in vivo organ, which can efficiently evaluate the effectiveness and safety of a drug candidate compound with a higher degree of accuracy than conventional in vitro models.
Main Features
1. A new level of detection that enables high-resolution, stable live-cell assays
By combining NSPARC's remarkable ultra-low noise detector and an AX R equipped with a resonant scanner capable of high-speed imaging, high-resolution sample information can be acquired even during high-speed scanning. High-resolution and stable live-cell assays with less photobleaching and less phototoxicity are made possible by reducing the laser irradiation time and reducing damage to cells, while taking advantage of the high sensitivity NSPARC detector.

2. High contrast 3D imaging
NSPARC's spatial array detector improves sensitivity by a factor of 1.3*3 to additional spatial information for each scanning point, which can then be used for image processing. This makes it possible to acquire higher-contrast 3D images than traditional point scanning confocal, even in deep areas.

*3. Compared to AX and AX R confocal microscopes

3. Deeper imaging than existing structured illumination products
NSPARC makes it possible to acquire data in larger samples than the existing N-SIM S super-resolution microscope supports. This enables high-resolution and high-precision morphological analysis of thick samples such as cranial nerves, organoids, and organs-on-a-chip.