Nikon Instruments A1 Confocal Laser Microscope Series With NIS-Elements C Software Delivers Fully Integrated Comprehensive Confocal Imaging Capabilities
Dec 15, 2008
NIS-Elements C Platform Brings System Flexibility and Efficiency to the Advanced Performance of the A1 Series of Confocal Laser Point Scanning Systems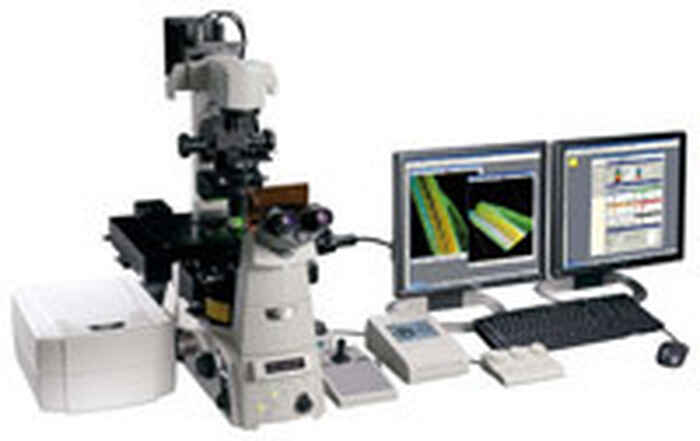 Offering the most comprehensive confocal microscope and software package available, Nikon Instruments, Inc.'s A1 series of confocal laser point scanning systems with dedicated NIS-Elements C software brings biological imaging to life. The software, which enables full integration of confocal specific acquisition controls together with advanced image analysis functionality, now operates on the Windows Vista 64® operating system, expanding acquisition, processing and analysis capabilities beyond the 3.25 gigabyte limit of 32bit operating systems. Multiple acquisition modalities, including the control of the dual galvo and resonate scanners, are provided as well as new capabilities in 6D confocal image acquisition.
The fully-automated A1 offers standard paired galvanometers with high resolution scanning at up to 4096 x 4096 pixels. The A1R model incorporates a unique hybrid scanner system utilizing a high speed resonant galvanometer capable of acquisitions up to 240 frames per second. Both scanners can be used simultaneously for unique experiments requiring acquisition and photoactivation by concurrently scanning the specimen. This supports advanced research methods using photoactivation fluorescence proteins and facilitates high-speed, live-cell work with a huge array of new imaging strategies. A spectral imaging detector further enables the A1 and A1R models to obtain up to 32 discreet spectral bandwidths of data in one acquisition, with powerful spectral unmixing capabilities. The total system is controlled through NIS-Elements C applications software, which also enables full control of the Nikon Ti-E research inverted microscope equipped with Nikon's Perfect Focus System (PFS), widefield CCD cameras and an array of hardware devices.
"The A1R paired with NIS-Elements C seamlessly integrates confocal acquisition and imaging with the management of all automated microscope functions, offering an ideal platform for a variety of high-level techniques for principal investigator labs and core imaging facilities alike," said Stan Schwartz, vice president, Nikon Instruments, Inc. "We've incorporated faster scanning speeds, unique photoactivation and simultaneous image detection, all with improved sensitivity and reduced photo-toxicity effects, to achieve a high-performance, live-cell confocal imaging system with a full range of application modalities and user defined work flow."
In conjunction with the specific confocal functionality, the NIS-Elements platform has been designed to cover visualization, image analysis, processing and data management. These new features bridge specific confocal applications with the functionality required for data generation and output allowing exceptional work flow and ease of use. The Graphical User Interface (GUI) provides for easy instrument set up, experiment work flow and secure data acquisition, storage and analysis.
NIS-Elements C makes observing live changes and graphing intensity during photobleaching and photoactivation easy with a well-developed and purposeful monitoring interface. Also, maximum and minimum intensity projections over time and Z-axis are available instantly. NIS-Elements C allows diverse image acquisition and analysis methods with techniques such as Colocalization, 2D Object Tracking and Kymograph displays.
NIS-Elements' core functionalities include control of motorized and encoded stages for large image mosaic data sets and includes control of rapid Piezo stage Z-axis focus for acquiring multiple Z-axis image stacks. Together, these features enable very large 6D image data sets to be easily captured and analyzed. The software can use these data sets to generate rapid volume views, renderings and rotations, automated object counting and multiple binary layer thresholding and processing. Modules such as 3D Blind Deconvolution, 2D Real Time Deconvolution and Extended Depth of Focus are also available, further enhancing and augmenting NIS-Elements' product depth and usability.
###