A Glimpse Into the Central Nervous System Wins the 13th Annual Nikon Small World in Motion Competition
Sep 26, 2023
With the potential to better understand neurodevelopmental disorders, this year's Nikon Small World in Motion winning video has universal applications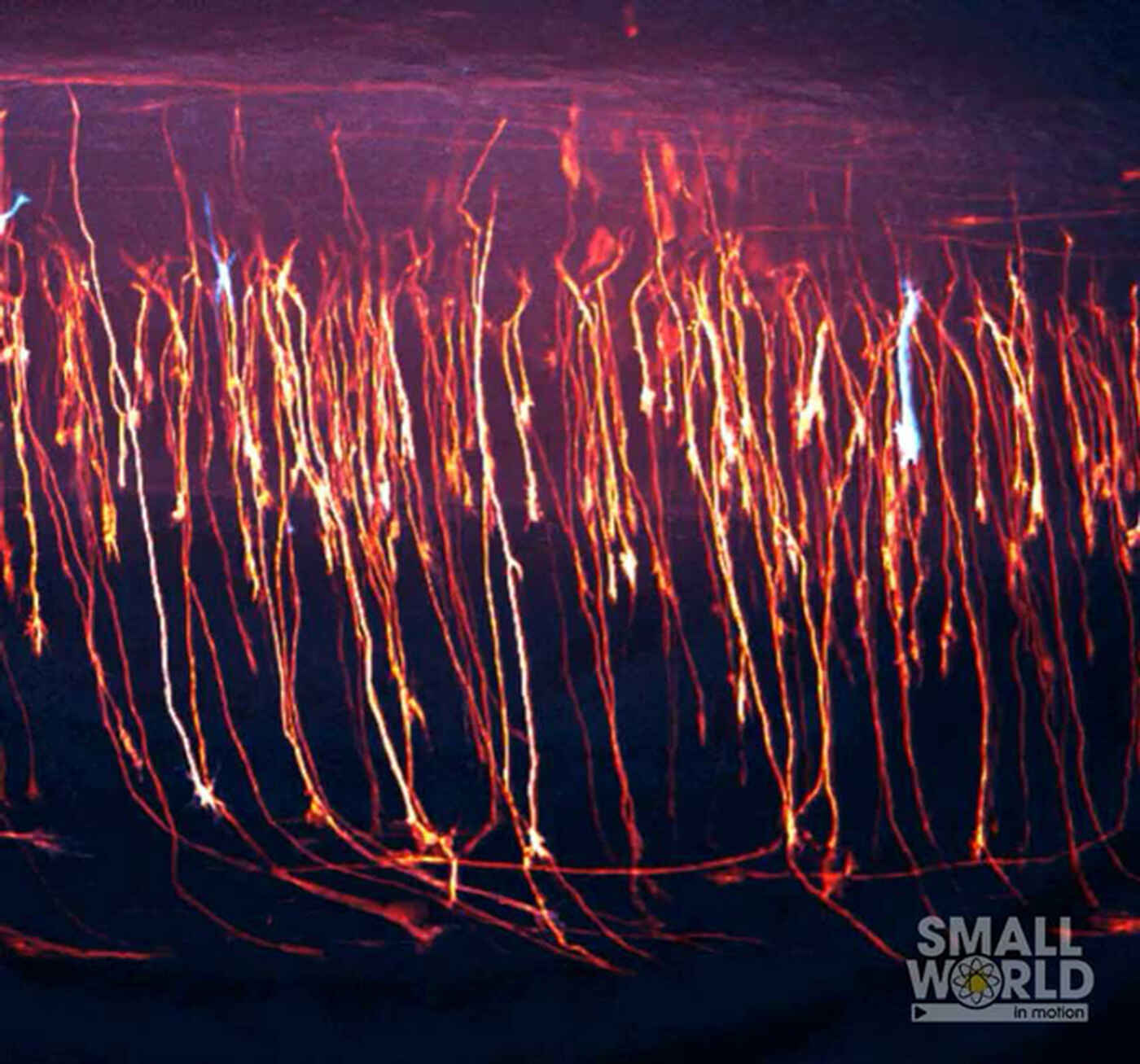 Nikon Instruments Inc. today unveiled the winners of the 13th annual Nikon Small World in Motion Video Competition. This year's first place prize was awarded to Dr. Alexandre Dumoulin for his 48-hour time-lapse video of developing neurons connecting to the opposite side of the central nervous system in a chick embryo. Developed at the University of Zurich, Dumoulin's video plays a significant role in understanding the potential deviations in neurodevelopmental disorders that occur in the central nervous system, such as autism spectrum disorder and schizophrenia.
Neurons are responsible for carrying information throughout the human body. They are connected with long extensions known as axons and these axons traverse the nervous system before eventually forming synapses. Dumoulin's video showcases these lengthy axons projecting across the midline, which serves as a boundary between the two hemispheres of the central nervous system. In neurological disorders, axons are impaired and unable to make their intended journeys.
"My research focuses on investigating the developmental processes of neurons in chick and mouse embryos," said Dumoulin. "By studying these organisms, I aim to enhance our comprehension of how the nervous system functions and identify potential factors contributing to neurodevelopmental disorders."
He went on to say, "The nervous system is an immensely complex and intricate system composed of a myriad of units that are connected to one another. In this video, we see single units and how they behave."
To capture the video, Dumoulin applied a new imaging method to visualize the live transfer of information from cells. "The biggest challenge was to discover a feasible method to access these neurons and capture images over an extended period of time," said Dumoulin. "A combination of precise dissection skills and adapted microscopy techniques proved to be the key."
In Dumoulin's eyes, the competition provides an opportunity to share his research efforts and passion for microscopy with the world, "I wanted to share these mesmerizing developing neurons with the public. To me, that's the essence of this competition, highlighting the beauty of nature through the lens of scientific research."
Eric Flem, Senior Manager, CRM and Communications at Nikon Instruments, could not agree more. "For nearly half a century, we've received awe-inspiring entries that are not only visually stunning but scientifically groundbreaking," said Flem. "This year's winning video is no different; while beautiful, Dumoulin's entry can carry significant meaning for the advancement of potential treatments for neurodevelopmental diseases."
Second place was awarded to Fabian J. Weston with Protist Lab Films for his video of blood flow in the tail fin of a small fish. To capture the video, Weston worked with a live organism on a 1 mm deep slide and administered filtered sample water with oxygen throughout the filming process.
Third place was awarded to Nell Saunders with the Institut Pasteur for her video of human cells fusing and dying upon infection by SARS-CoV-2.

The 2023 judging panel included:

Ed Cara, Science and Health Reporter at Gizmodo
James Cutmore, Picture Editor at BBC Science Focus Magazine
Dr. Gary Laevsky, Director of the Confocal Imaging Facility at Princeton University
Dr. Igor Siwanowicz, Research Scientist at Howard Hughes Medical Institute
Dr. Clare Waterman, Cell Biologist and Member of the National Academy of Sciences
NIKON SMALL WORLD IN MOTION WINNERS

1st Place
Dr. Alexandre Dumoulin
University of Zurich
Department of Molecular Life Sciences
Zurich, Switzerland
48-hour time-lapse of developing neurons connecting the opposite side of the central nervous system in a chick embryo
Confocal
40X (Objective Lens Magnification)
2nd Place
Fabian J. Weston
Protist Lab Films
Pennant Hills, New South Wales, Australia
Blood flow in the tail fin of a small fish
Differential Interference Contrast (DIC)
10X (Objective Lens Magnification)

3rd Place
Nell Saunders
Institut Pasteur
Department of Virology
Paris, France
Human cells fuse and die upon infection by SARS-CoV-2
Holotomography
60X (Objective Lens Magnification)
4th Place
Benedikt Pleyer
Kirchberg, Bavaria, Germany
Pond creatures (in order of appearance): Hydra, Volvox, Daphnia, Spirostomum, Synura, Hydra
Darkfield
2.5X - 3.5X (Objective Lens Magnifications)
5th Place
Dr. Michael Weber
Georg-August-University Göttingen
Multiscale Biology
Göttingen, Niedersachsen, Germany
The beating heart of a 5-day-old zebrafish
Light Sheet
20x (Objective Lens Magnifications)

HONORABLE MENTIONS
Álmos Becz
Eötvös Loránd Tudományegyetem
Szigetszentmiklós, Hungary
Prostoma sp. attacking prey
Polarized Light
4X -10X (Objective Lens Magnifications)

Taylor Bell
Gustometry + SF Micro Society
Norwalk, Connecticut, USA
Potato starch gelatinization (microscopic depiction of the culinary technique of sauce thickening)
Interference Contrast
25X (Objective Lens Magnification)

Dr. Robert Berdan
Science & Art
Calgary, Alberta, Canada
Single celled ciliates (Nassulids)
Differential Interference Contrast (DIC)
20X (Objective Lens Magnification)

John-Oliver Dum
Medienbunker Produktion
Bendorf, Rheinland Pfalz, Germany
Goldeyefly (Chrysops relictus) cleaning its proboscis after a blood meal
Reflected Light
5X (Objective Lens Magnification)

Dr. Pau Guillamat, Dr. Stephen Decamp & Prof. Dr. Zvonimir Dogic
Institute for Bioengineering of Catalonia (IBEC)
Department of Integrative Cell and Tissue Dynamics
Barcelona, Spain
Active gel composed of fluorescent microtubules and kinesin motor proteins
Fluorescence
60X (Objective Lens Magnification)
Blake Hernandez
University of Pennsylvania
Department of Bioengineering
Philadelphia, Pennsylvania, USA
Cell division in an early mouse embryo. Chromosomes (blue) and centromeres (orange) are labeled.
Confocal
40X (Objective Lens Magnification)
Bre Hewitt
Drexel University
Department of Biology
Philadelphia, Pennsylvania, USA
Fibroblast migrating through 3D cell derived matrix marking the actin cytoskeleton and nucleus
Confocal, Fluorescence, Image Stacking
60X (Objective Lens Magnification)
Dr. Chih-Wei Logan Hsu
Baylor College of Medicine
Department of Integrative Physiology and Department of Education, Innovation and Technology
Houston, Texas, USA
Vasculature in the adult mouse eye
Light Sheet
5X (Objective Lens Magnification)

Dr. Akanksha Jain
ETH Zurich
Department of Biosystems Science and Engineering (D-BSSE)
Basel, Switzerland
A human brain organoid imaged every half an hour, for one week, showing lumen morphogenesis and emergence of forebrain progenitors and neurons
Light Sheet
25X (Objective Lens Magnification)

Linda Veronique Kazandjian
Munich, Bayern, Germany
A dense culture of a freshwater ciliate (Spirostomum sp.) commonly found in ponds and lakes
Polarized Light
10X and 20X (Objective Lens Magnifications)

Martin Kaae Kristiansen
My Microscopic World
Aalborg, Nordjylland, Denmark
A tardigrade (Milnesium) with visible muscle fibers
Polarized Light
20X (Objective Lens Magnification)

Jay McClellan
Saranac, Michigan, USA
Thin-film interference colors from naturally-occurring oxidation on pahoehoe lava
Image Stacking
4X (Objective Lens Magnification)
Dr. Alvaro Migotto
Centro de Biologia Marinha
São Sebastião, São Paulo, Brazil
Syllid worm with sections packed with gametes, each of which break off and release eggs or sperm in the water
Darkfield
4X (Objective Lens Magnification)
Dr. Andrew Moore
Howard Hughes Medical Institute
Janelia Research Campus
Ashburn, Virginia, USA
Endoplasmic reticulum (ER) dynamics in a cultured animal cell
Confocal
63X (Objective Lens Magnification)

Dr. Eric Peterman
University of Washington
Department of Biology
Seattle, Washington, USA
Immune cell response to a scratch in the zebrafish epidermis
Confocal
25X (Objective Lens Magnification)
Benedikt Pleyer
Kirchberg, Bavaria, Germany
Bioluminescent crustaceans. When threatened they release a cloud of bluish glowing substance to fend off attackers.
Darkfield
1.5X - 2.5X (Objective Lens Magnifications)

Sebastian Sparenga
McCrone Research Institute
Chicago, Illinois, USA
Cholesteryl acetate recrystallizing from a melt
Polarized Light
5X (Objective Lens Magnification)

Wim van Egmond
Micropolitan Museum
Berkel en Rodenrijs, Zuid Holland, Netherlands
Bacteria colonies (Lactobacillus paracasei)
Image Stacking
10X (Objective Lens Magnification)
Wim van Egmond
Micropolitan Museum
Berkel en Rodenrijs, Zuid Holland, Netherlands
Bell animalcules (Vorticella) seen through an original Leeuwenhoek microscope
Brightfield
266X

Dr. Jubina Balan Venghateri
Weizmann Institute of Science
Department of Immunology and Regenerative Biology
Rehovot, Israel
Human lung cancer cells dividing
Phase Contrast
20X (Objective Lens Magnification)
Dr. Melanie White & Jianxiong Wang
University of Queensland
Institute for Molecular Bioscience
Brisbane, Queensland, Australia
Early nervous system formation in a quail embryo, resulting in the development of the brain and spinal cord
Confocal, Fluorescence
40X (Objective Lens Magnification)

Dr. Joost Willemse, Dr. Maurijn van der Zee, Shixiong Cheng & Gerda Lamers
Leiden University
Microscopy Department
Leiden, Zuid Holland, Netherlands
Depth encoded embryonal development of a red flour beetle (Tribolium castaneum)
Confocal
10X (Objective Lens Magnification)

Yen Fook Chew
Woodend, Waimakiriri, New Zealand
Zooplankton (Simocephalus sp.) releasing their young. Compilation video of six different specimens.
Darkfield
2X (Objective Lens Magnification)

Yen Fook Chew
Woodend, Waimakiriri, New Zealand
Copulating water fleas (Daphnia pulex)
Darkfield
2X (Objective Lens Magnification)
Dr. Zhigang Zheng
Zhuhai Photographers Association
Zhuhai, GuangDong, China
The birth of a caterpillar
Brightfield
5X (Objective Lens Magnification)
About Nikon Small World Photomicrography Competition
The Nikon Small World Competition is open to anyone with an interest in photography or video. Participants may upload digital images and videos directly at www.nikonsmallworld.com. For additional information, contact Nikon Small World, Nikon Instruments Inc., 1300 Walt Whitman Road, Melville, NY 11747, USA, or phone (631) 547-8569. Entry forms for Nikon's 2023 Small World and Small World in Motion Competitions are available at https://enter.nikonsmallworld.com/