Macro Confocal Microscope System
Large field of view macro confocal imaging system.
The AZ-C2+ enables high-definition confocal imaging during macro observation as well as micro observation. Sharp, wide field of view images with incredibly high S/N ratios allow for imaging of whole-mount specimens such as embryos and large tissue slices that are commonly used in developmental and systems biology studies. Moreover, the AZ-C2+ offers a combination of low and high magnification objective lenses and a scanning zoom function, enabling continuous imaging from macro to micro with a single microscope. The macro in vivo imaging capabilities allow for the capture of confocal images that were previously not possible with traditional stereoscopic microscopes.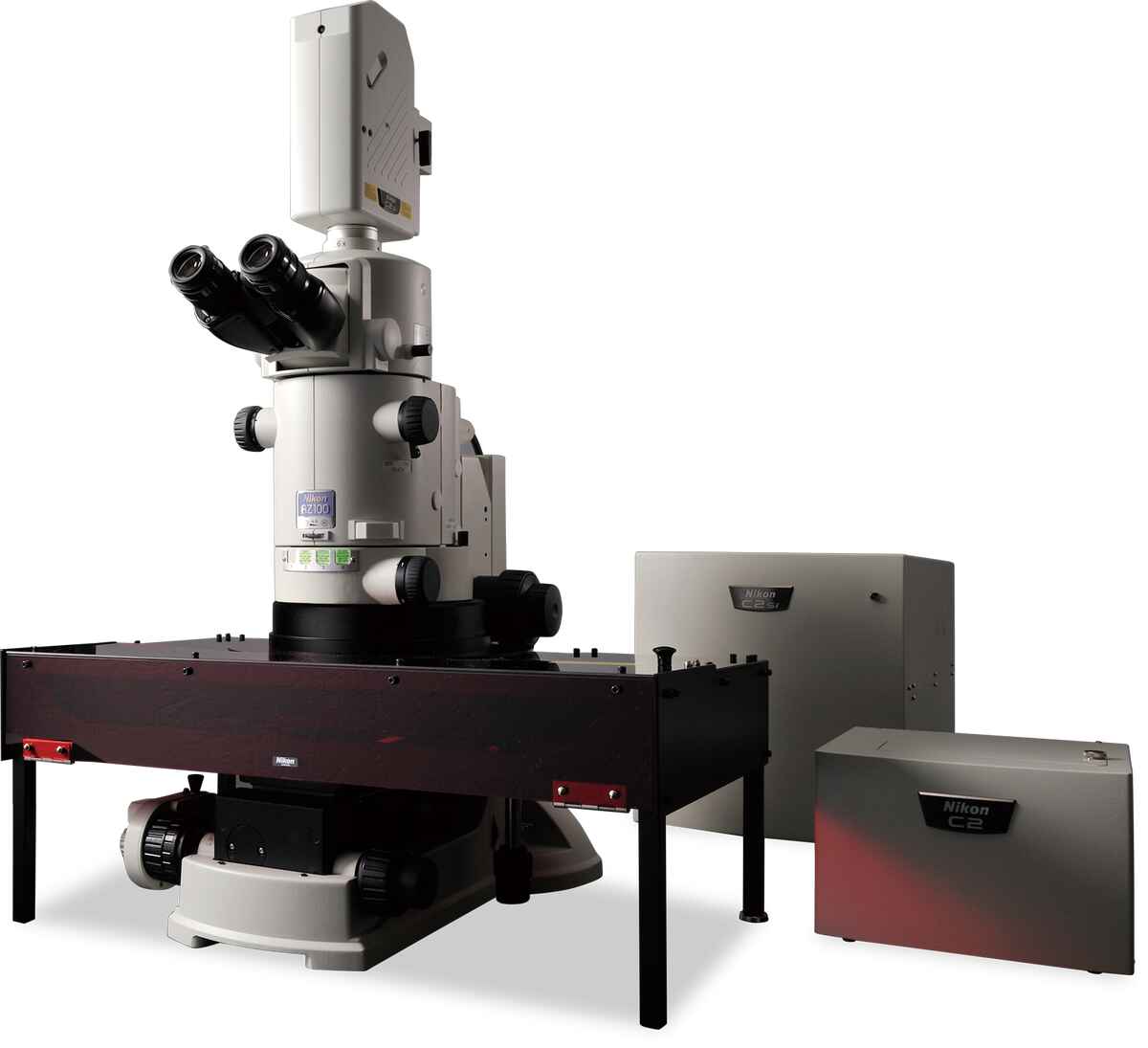 ---
Key Features
One-shot whole specimen-macro confocal imaging
High NA objectives for macro observation enable fast, high-resolution, single-image capture of a wide specimen area. Because the objectives cover a field of view larger than 1 cm, imaging of embryos during late stages of development and capturing the dynamics of cell populations in whole organs are possible.
[Note] When Plan Apochromat 1x and AZ100 optical zoom 4x are used, the diagonal diameter of the real field of view is 5.3 mm.
The AZ-C2+ can capture wide-field, optical sections at high resolution in a single scan. With a conventional confocal microscope, image stitching is necessary because the field of view that can be captured in a single scan is small.

---
The AZ-C2+ allows time-lapse observation of the dynamic behavior of cell populations.

---
Continuous imaging from low magnification to high magnification
With five different objective lenses, optical zoom and confocal scan zoom, the AZ-C2+ makes imaging possible from very low magnification to high magnification. Macro imaging, such as whole-section imaging, and micro imaging, including imaging of a single cell, can be done using a single microscope.
High magnification imaging offers clear and sharp images of single cells.

---
Deep imaging of whole specimens
The AZ-C2+ efficiently captures fluorescence signals from deep within a specimen enabling deep imaging for both macro and in vivo imaging.
---
Confocal laser microscope system C2+/C2si+ Ready/C2si+
The Nikon C2+ series offers the optimum confocal system to meet both your research and your budgetary needs.
C2+
Standard model boasts high resolution, high sensitivity, and high contrast. Suited for single laboratories or large research groups.
C2si+ Ready
Upgrade to C2si+ is possible by adding a spectral detector.
C2si+
Spectral confocal system featuring a 32-ch multianode spectral detector. A spectral bandwidth of 320 nm can be captured in a single scan.
[Note] Upgrade to the macro confocal microscope system is through a combination of the C2+ series and the AZ100 microscope. The AZ100M and A1+ series are not compatible.

*To learn more about these products, please see the C2+ brochure.
---