Nikon Instruments Europe BV et toutes les filiales Nikon en Europe suivent de près la situation liée au COVID-19 (coronavirus) et appliquent les recommandations de chaque autorité sanitaire locale. En savoir plus sur les mesures mises en place.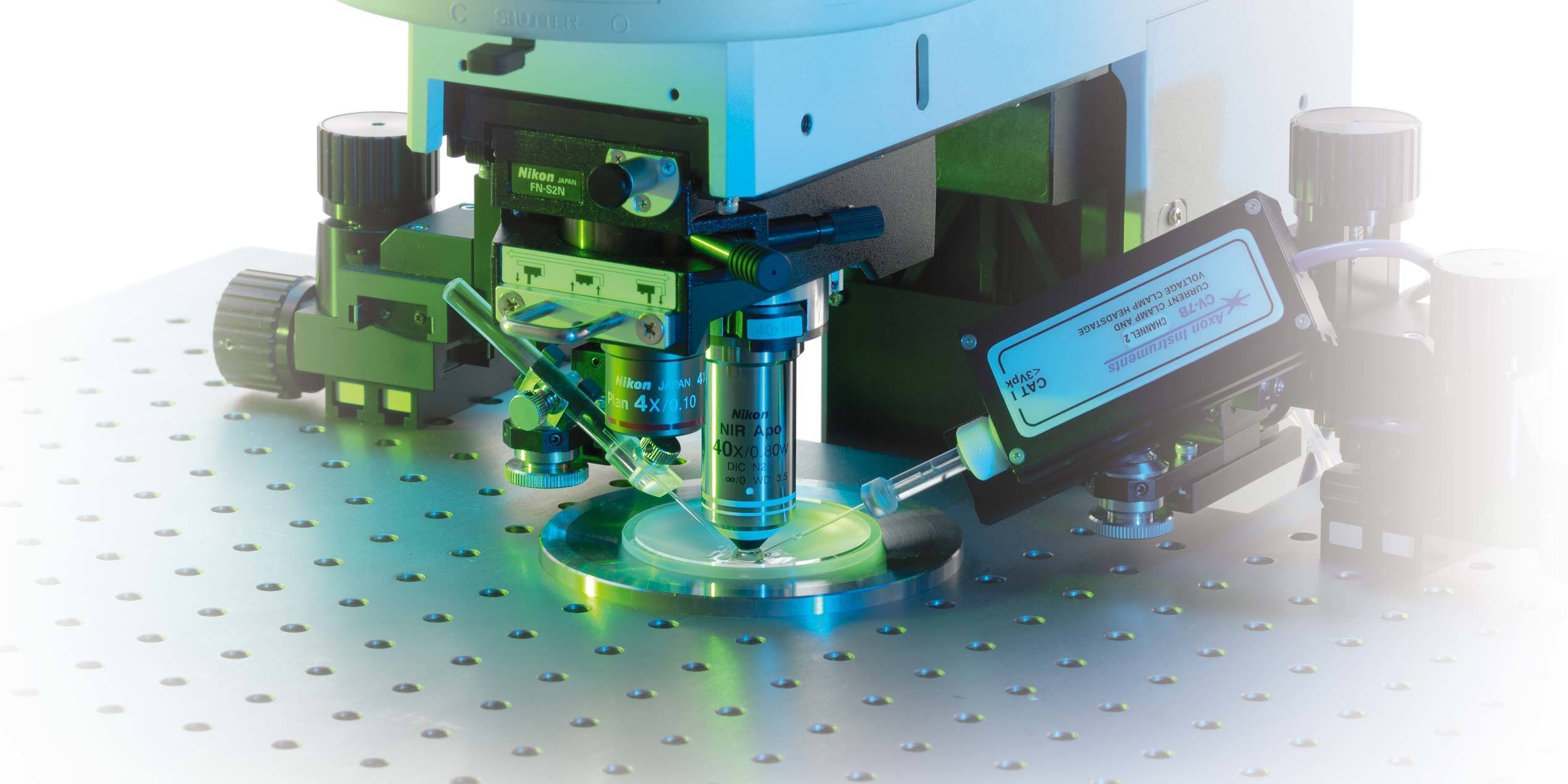 Microscope à plate-forme fixe pour la recherche électrophysiologique
Caractéristiques
Eclipse FN1
Optical system
CFI60 and CFI75 infinity optical system
Main body
I-shaped, external power supply
Focusing
Via nosepiece up/down movement
Manual coaxial coarse/fine focus knobs (on both sides)
Nosepiece
FN-S2N Sliding Nosepiece (for CFI60 objectives)
Front/back 2-position; DIC prism attachable
FN-MN-N Single Objective Holder (for CFI75 objective)
1-position; DIC prism attachable
Objectives
CFI Plan 4X, NA: 0.10, W.D.: 30.0 (*1)
CFI Plan Fluor 10X W, NA: 0.30, W.D.: 3.5
CFI75 LWD 16X W, NA: 0.80, W.D.: 3.0
CFI Apochromat NIR 40X W, NA: 0.80, W.D.: 3.5
CFI Apochromat NIR 60X W, NA: 1.00, W.D.: 2.8
CFI Plan 100XC W, NA: 1.10, W.D.: 2.5, with correction ring
LWD condenser
Universal turret type
NA: 0.78, W.D.: 7.2mm
DIC and Oblique Light observations possible
Eyepiece
10x, F.O.V.: 22 UW10x, F.O.V.: 25
Eyepiece tubes
C-TE2 Ergonomic Binocular Tube (Bino 100%, Bino : DSC port = 50 : 50)
(DSC port cannot be used with variable magnification double port)
C-TF Trinocular Tube F (Bino : Photo = 100 : 0, 0 : 100)
C-TT Trinocular Tube T (Bino : Photo = 100 : 0, 20 : 80, 0 : 100)
LV-TI3 Trinocular Tube ESD (Bino : Photo = 100 : 0, 0 : 100)
LV-TT2 Tilting Trinocular Tube (Bino : Photo = 100 : 0, 20 : 80, 0 : 100)
Stage
FN-3PS2 FN1 Rectangular Stage (3-plate mechanical stage)
Stroke: 30mm (X, Y)
Light source
Intensilight HG Precentered Fiber Illuminator: 130W long-life mercury lamp
Hg Lamphouse: 100W mercury lamp
FN-LH Precentered Lamphouse: 12V-100W long-life halogen lamp
Operating conditions
Temperature: +10ºC to +40ºC
Humidity: 85% RH max. (no condensation)
Weight (main body)
Approx. 12kg
*1 Auxiliary lens is required.
Dimensions