Stunning Microscopic View of Human Skin Cells Wins 2017 Nikon Small World Competition
Oct 4, 2017
Nikon Instruments announces winners of 43rd annual competition that reveals details about an unseen microscopic world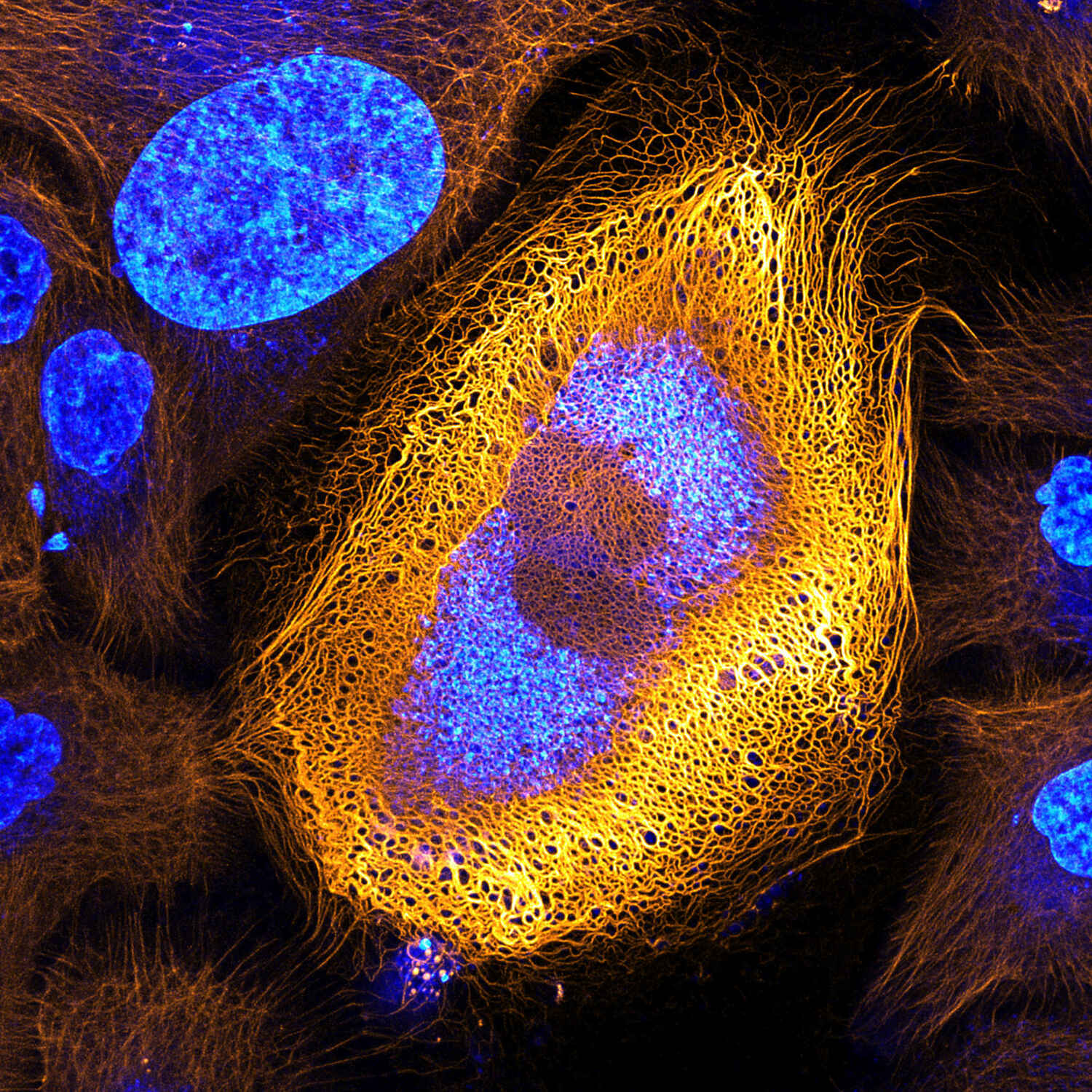 Nikon Instruments Inc. today continues celebrating its 100th anniversary by unveiling the winners of the 43rd annual Nikon Small World Photomicrography Competition, with Dr. Bram van den Broek of The Netherlands Cancer Institute (NKI) taking first place for his photo of a skin cell expressing an excessive amount of keratin. He came across this peculiar but beautiful skin cell while researching the dynamics of keratin filaments with Andriy Volkov, a student in the Cell Biophysics group led by Professor Kees Jalink.
"There are more than 50 different keratin proteins known in humans. The expression patterns of keratin are often abnormal in skin tumor cells, and it is thus widely used as tumor marker in cancer diagnostics," said Dr. van den Broek. "By studying the ways different proteins like keratin dynamically change within a cell, we can better understand the progression of cancers and other diseases."
Keratin is an important structural protein in skin cells. The keratin fibrous network protects the cells against mechanical stress and is involved in many other cellular functions, like cell migration and adhesion. Studying the structure, dynamics and regulation of the keratin network can reveal information about such processes and potentially identify cell abnormalities. In certain types of cancer, for instance, reduced amounts of specific keratins are indicative for tumor aggressiveness.
"This year's winners not only reflect remarkable research and trends in science, but they also allow the public to get a glimpse of a hidden world," said Eric Flem, Communications Manager, Nikon Instruments, "This year's winning photo is an example of important work being done in the world of science, and that work can be shared thanks to rapidly advancing imaging technology."
Like the first place winner, this year's second place photo captures another subject we see every day from a microscopic perspective – the flowering head of a plant (Senecio vulgaris). Dr. Havi Sarfaty of Yahud-Monoson, Israel, submitted this photo because of how it represents the unseen complexity of a supposedly simple garden flower.
Although this year's third place photo by Mr. Jean-Marc Bablian of Nantes, France looks like it came from a beloved vintage video game, it is actually a living volvox algae releasing its daughter colonies.
In addition to first, second and third prize winners, Nikon Small World recognized an additional 85 photos from more than 2,000 entries from 88 countries around the globe.
"What I most enjoy about this competition is that a larger audience can appreciate the beautiful complexity and diversity of the world unseen by the naked eye," said van den Broek.
The 2017 judging panel includes:
Dr. Bob Goldman: Chair, Department of Cell and Molecular Biology, Northwestern University Feinberg School of Medicine.
Robert Krulwich: Radio and television journalist who currently serves as a science correspondent for NPR and is a co-host of the award-winning WNYC program Radiolab.
Dave Mosher: Science and technology correspondent at Business Insider with more than a decade of digital, print, video, and photo journalism experience.
Dr. Clare Waterman: National Institute of Health (NIH) Distinguished Investigator at the Laboratory of Cell and Tissue Morphodynamics.
Eric Clark (Moderator): Research Coordinator and Applications Developer at the National High Magnetic Field Laboratory at Florida State University.
As part of Nikon's 100th anniversary celebration, the winners of the 2017 Nikon Small World and Nikon Small World in Motion competitions, received a trip to Tokyo, Japan, to visit Nikon's headquarters and to participate in an exclusive tour of the factory and facilities. For additional information and for an inside look at the Japan excursion with our winners, please visit www.nikonsmallworld.com, or follow the conversation on Facebook, Twitter @NikonSmallWorld and Instagram @NikonInstruments.
NIKON SMALL WORLD WINNERS
THE OFFICIAL 2017 NIKON SMALL WORLD WINNERS
The following are the Top 20 and Honorable Mentions for Nikon Small World 2017. The full gallery of winning images, along with Images of Distinction can be viewed at www.nikonsmallworld.com
1st Place
Dr. Bram van den Broek, Andriy Volkov, Dr. Kees Jalink, Dr. Nicole Schwarz & Dr. Reinhard Windoffer
The Netherlands Cancer Institute, BioImaging Facility & Department of Cell Biology
Amsterdam, The Netherlands
Immortalized human skin cells (HaCaT keratinocytes) expressing fluorescently tagged keratin
Confocal
40x (objective lens magnification)
2nd Place
Dr. Havi Sarfaty
Eyecare Clinic
Yahud-Monoson, Israel
Senecio vulgaris (a flowering plant) seed head
Stereomicroscopy
2x
3rd Place
Jean-Marc Babalian
Nantes, France
Living Volvox algae releasing its daughter colonies
Differential Interference Contrast
100x
4th Place
Teresa Zgoda
Rochester Institute of Technology
Rochester, New York, USA
Taenia solium (tapeworm) everted scolex
200x
5th Place
Dean Lerman
Netanya, Israel
Mold on a tomato
Reflected Light, Focus Stacking
3.9x
6th Place
Dr. David A. Johnston
University of Southampton/University Hospital Southampton, Biomedical Imaging Unit
Southampton, United Kingdom
Lily pollen
Confocal
63x (objective lens magnification)
7th Place
Dr. Ryo Egawa
Nagoya University, Graduate School of Medicine
Nagoya, Japan
Individually labeled axons in an embryonic chick ciliary ganglion
Differential Interference Contrast
Confocal, Tissue Clearing, Brainbow (labeling technique)
30x (objective lens magnification)
8th Place
Dr. Michael Perny
University of Bern, Institute for Infectious Diseases
Bern, Switzerland
Newborn rat cochlea with sensory hair cells (green) and spiral ganglion neurons (red)
Confocal
100x
9th Place
Catarina Moura, Dr. Sumeet Mahajan, Dr. Richard Oreffo & Dr. Rahul Tare
University of Southampton, Institute for Life Sciences
Southampton, United Kingdom
Growing cartilage-like tissue in the lab using bone stem cells (collagen fibers in green and fat deposits in red)
Second Harmonic Generation (SHG) and Coherent Anti-Stokes Raman Scattering (CARS)
20x for collagen; 40x for fat deposits
10th Place
Dr. Csaba Pintér
University of Pannonia, Georgikon Faculty, Department of Plant Protection
Keszthely, Hungary
Phyllobius roboretanus (weevil)
Stereomicroscopy
80x
11th Place
Steven Simon
Simon Photography
Grand Prairie, Texas, USA
Plastic fracturing on credit card hologram
10x (objective lens magnification)
12th Place
Charles Krebs
Charles Krebs Photography
Issaquah, Washington, USA
Opiliones (daddy longlegs) eye
Reflected Light, Image Stacking
20x (objective lens magnification)
13th Place
Levon Biss
Levon Biss Photography Ltd
Ramsbury, United Kingdom
Exaerete frontalis (orchid cuckoo bee) from the collections of the Oxford University Museum of Natural History
Reflected Light
10x (objective lens magnification)
14th Place
David Millard
Austin, Texas, USA
Common Mestra butterfly (Mestra amymone) eggs, laid on a leaf of Tragia sp. (Noseburn plant)
Incident Illumination, Image Stacking
7.5x (objective lens magnification)
15th Place
Dr. Rick Adams
University of Northern Colorado, Department of Biological Sciences
Greeley, Colorado, USA
3rd trimester fetus of Megachiroptera (fruit bat)
Darkfield, Stereomicroscopy
18x
16th Place
Marek Miś
Marek Miś Photography
Suwalki, Poland
Parus major (titmouse) down feather
Polarized Light, Darkfield
25x
17th Place
Harald K. Andersen
Steinberg, Norway
Dyed human hair
Darkfield
40x
18th Place
Christian Gautier
Biosphoto
Le Mans, France
Synapta (sea-cucumber) skin
Polarized Light
100x
19th Place
Dr. Dylan Burnette
Vanderbilt University School of Medicine, Department of Cell and Developmental Biology
Nashville, Tennessee, USA
Embryonic body wall from a developing Mus musculus (mouse)
100x (objective lens magnification)
20th Place
Tracy Scott
Ithaca, New York, USA
Aspergillus flavus (fungus) and yeast colony from soil
Transmitted Light
40x
HONORABLE MENTIONS
Emre Can Alagöz
Marmara University, Department of Photography
Istanbul, Turkey
Jumping Spider
Reflected Light
6x
Benjamin Barti
Hungarian Academy of Sciences - Institute of Experimental Medicine, Department of Molecular Neurobiology
Budapest, Hungary
Dye-injected hippocampal interneuron in mouse brain section
Confocal
20x
Alwin de Jong1, Dr. G.J. Kremers1, 2 & Dr. R.L. de Swart3
1Erasmus MC, Erasmus Optical Imaging Center
2Erasmus MC, Department of Pathology
3Erasmus MC, Department of Viroscience
Rotterdam, The Netherlands
Ciliated respiratory epithelial cells (yellow) and mucus producing goblet cells (cyan), containing tight junctions (red) and nuclei (blue)
Confocal
68x
Dr. Regis C. Grailhe, Nasia Antoniou & Dr. Rebecca Matsas
Institut Pasteur Korea, Department of Screening Sciences & Novel Assay Technology
Seongnam-si, South Korea
Neurons derived from a Parkinson patient
Confocal
20x
Dr. Keunyoung Kim
National Center for Microscopy and Imaging Research (NCMIR), Department of Neuroscience
La Jolla, California, USA
Ganglion cells expressing fluorescent proteins in a mouse retina
40x
Dr. Robert Markus
University of Nottingham, School of Life Sciences Super Resolution Microscopy
Nottingham, United Kingdom
Traxacum officinale (dandelion) cross section showing curved stigma with pollen
Confocal, Large Image Stitching
25x
Dr. Nathan Myhrvold
Modernist Cuisine
Bellevue, Washington, USA
Broccoli
Image Stacking
4.9x
Frank Reiser
Nassau Community College, Department of Biology
Garden City, New York, USA
Human tongue blood vessels injected with lead chromate
Reflected Light, Focus Stacking
100x
Michael Tuchband
University of Colorado Boulder, Department of Physics
Boulder, Colorado, USA
Liquid crystal
Polarized Light
500x
Marc Van Hove
Centexbel
Zwijnaarde, Belgium
Warp knitted curtain fabric
Darkfield
10x (objective lens magnification)
ABOUT NIKON SMALL WORLD PHOTOMICROGRAPHY COMPETITION
The Nikon Small World Photomicrography Competition is open to anyone with an interest in photography or video. Participants may upload digital images and videos directly at www.nikonsmallworld.com. For additional information, contact Nikon Small World, Nikon Instruments Inc., 1300 Walt Whitman Road, Melville, NY 11747, USA or phone (631) 547-8569. Entry forms for Nikon's 2018 Small World and Small World in Motion Competitions are available at www.nikonsmallworld.com.
Stunning Microscopic View of Human Skin Cells Wins 2017 Nikon Small World Competition