Nikon Imaging Center
Harvard Medical School
The Nikon Imaging Center at Harvard Medical School (NIC@HMS) is a Cell Biology Department, Systems Biology Department, and Biochemistry & Molecular Pharmacology Department core facility for light microscopy developed in partnership with Nikon Instruments Inc. and Micro Video Instruments Inc. The NIC@HMS also has several corporate contributors including Binder GmbH, CellASIC, Chroma Technology, CYTOO, Hamamatsu Photonics, Lumencor, Molecular Devices, Prior Scientific, Sutter Instrument Company and Tokai Hit Co., Ltd.
The mission of the NIC@HMS is to:
Enhance basic research by providing access to state-of-the-art microscopy and imaging equipment
Provide training courses on basic and advanced light microscopy techniques for the benefit of HMS and the greater Boston research community
Introduce the latest innovations in light microscopy and imaging to the HMS community
Serve as a learning center for our corporate partners and contributors
Provide a dedicated NIC@HMS director for ongoing technical consultation and support
The NIC@HMS was the first Nikon Imaging Center, established in 2001. Nikon has since established several other Imaging Centers in collaboration with universities and research centers worldwide.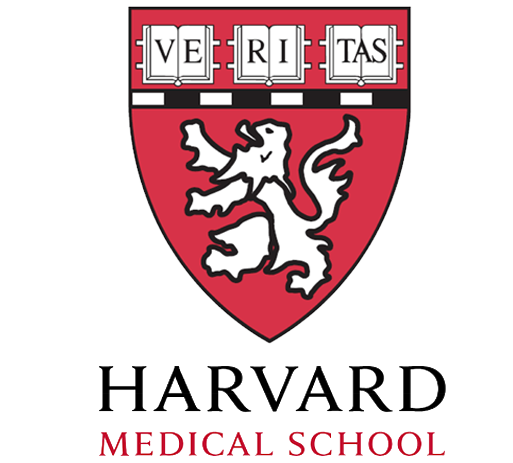 Contato
NIC Director
email hidden; JavaScript is required
Address
Harvard Medical School
25 Shattuck St
Boston
MA 02115
United States
Website
---
---
Systems Available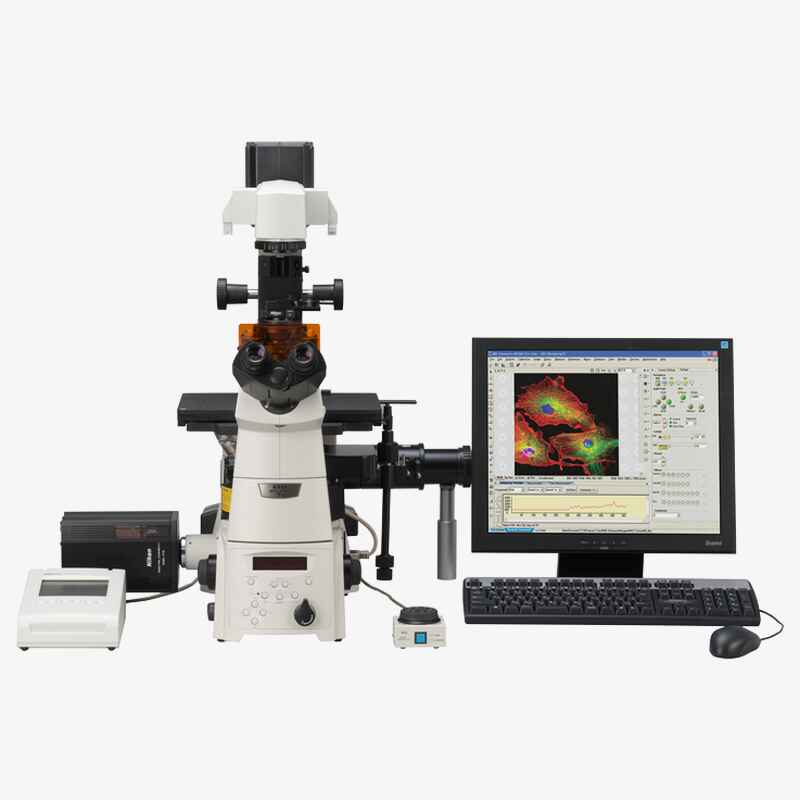 Ti-E PFS Inverted Microscope System
The Eclipse Ti-E with Perfect Focus is Nikon's market leading inverted microscope system offering improved system speed, increased flexibility and efficient multi-mode microscopy as part of a fully-integrated microscope system that is ideal for high-end research and live cell imaging. Perfect Focus is Nikon's exclusive focus correction system that combats axial focus fluctuations in real time during long-term imaging investigations.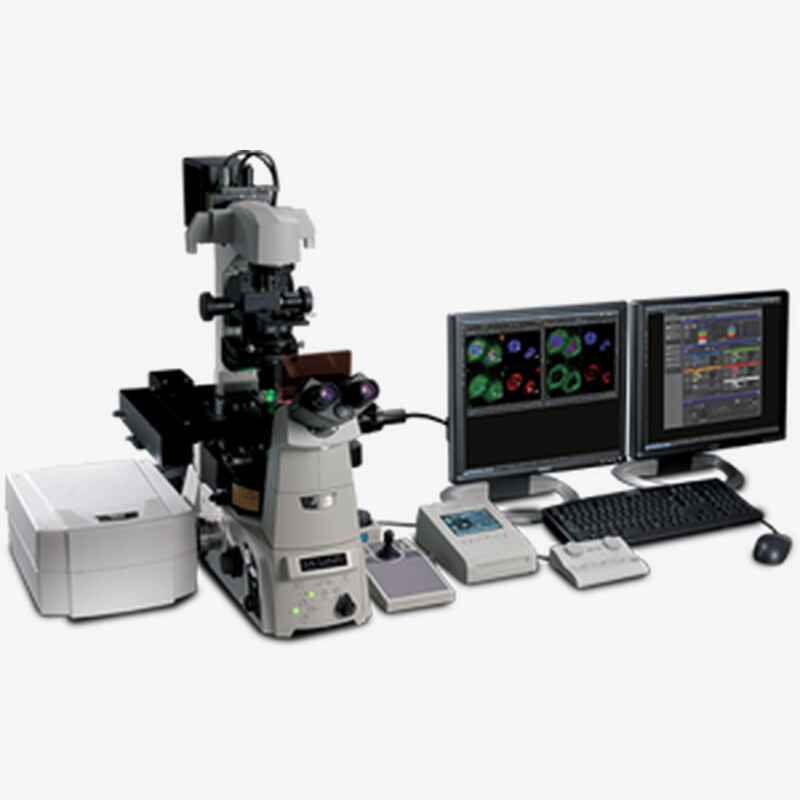 A1R Confocal with Ti-E Inverted Microscope
Capturing high-quality confocal images at ultrahigh-speed and enhanced sensitivity with a resonant scanner and galvano scanner, Nikon's A1R is a powerful tool for the imaging and visualization of intracellular dynamics and interaction. The system comes equipped with a unique hybrid scan head incorporating both an ultra high-speed resonant scanner and a high-resolution galvano scanner, enabling simultaneous bleaching/ photoactivation and acquisition.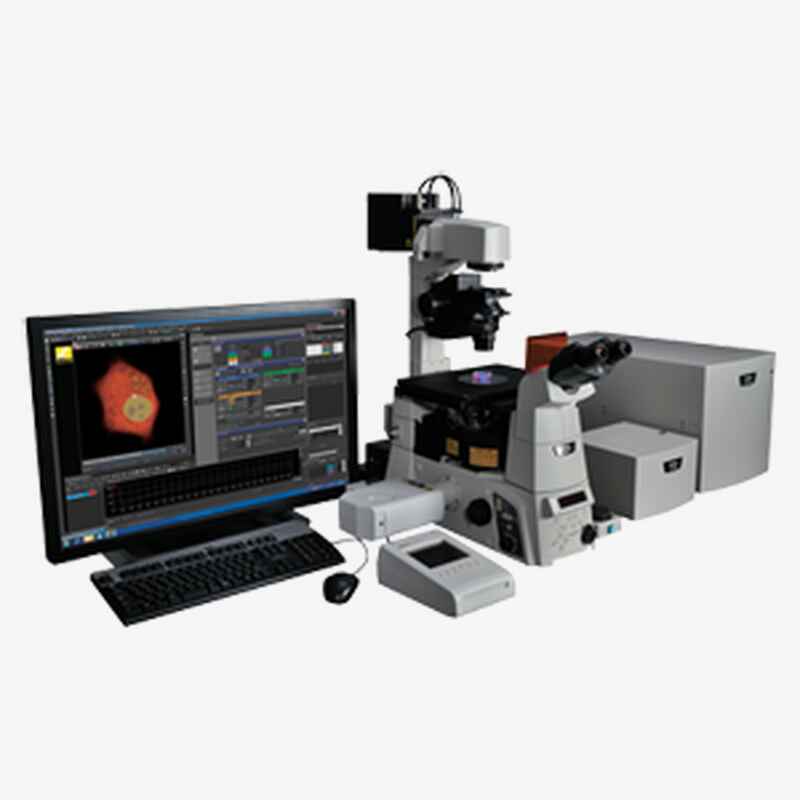 C2 Confocal Microscope with Ti-E Inverted Microscope
Built on a reputation of incredible stability coupled with superior optical technologies, the C2 includes four channel confocal fluorescence imaging, and vastly expanded spectral capabilities with the ability to capture and unmix data acquired at any channel resolution across the entire detector bandwidth. The system is fully controlled by NIS-Elements imaging software.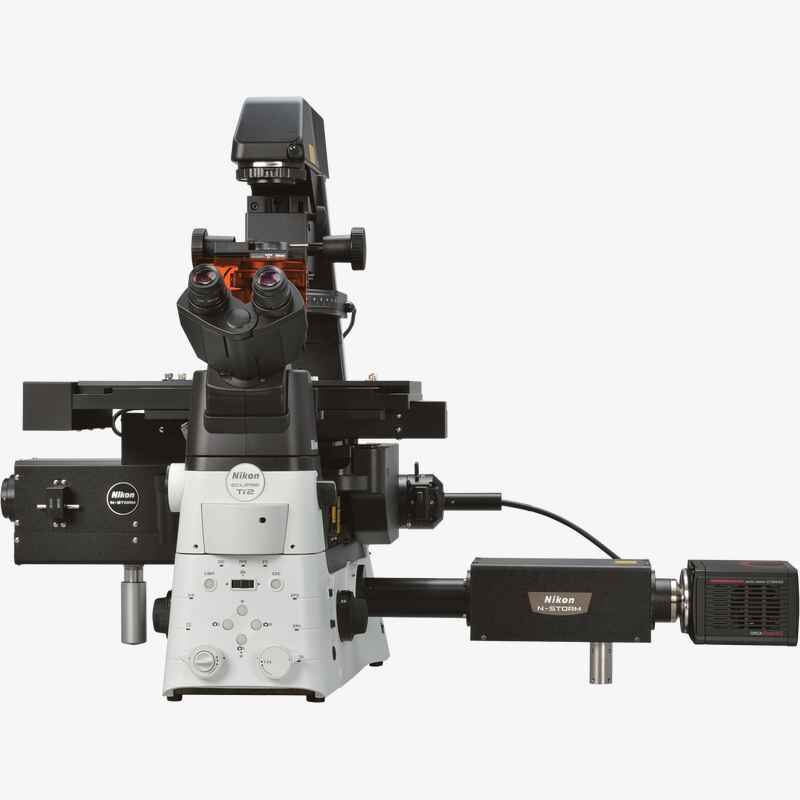 N-STORM
N-STORM is a super-resolution microscope system that combines "STochastic Optical Reconstruction Microscopy" technology (licensed from Harvard University) and Nikon's Eclipse Ti research inverted microscope. The N-STORM super-resolution microscope provides dramatically enhanced resolution that is 10 times that of conventional optical microscopes.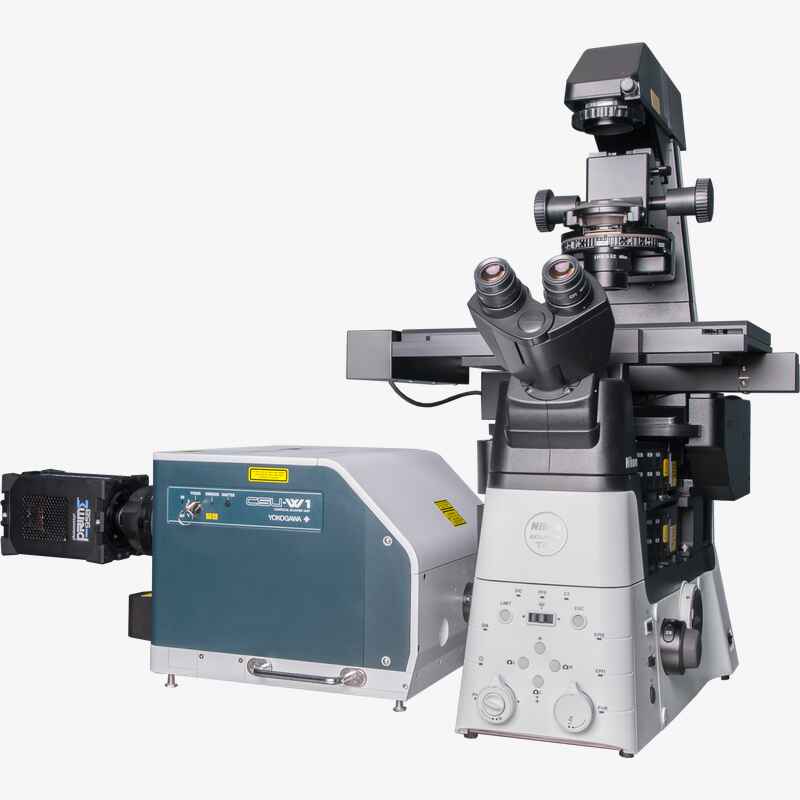 Spinning Disk Confocal System
The Eclipse Ti-E with a Yokagawa CSU-X1 spinning disk confocal with Spectral Applied Research Aurora Borealis modification provides an ultra-fast and sensitive confocal microscope system ideal for live imaging.