대물렌즈
Each Nikon microscope objective is precision-crafted to provide the highest level of clarity and overall optical performance. World-class Nikon objectives, including renowned CFI60 infinity optics, deliver brilliant images of breathtaking sharpness and clarity, from macro- to nano-scale.
제품 브로셔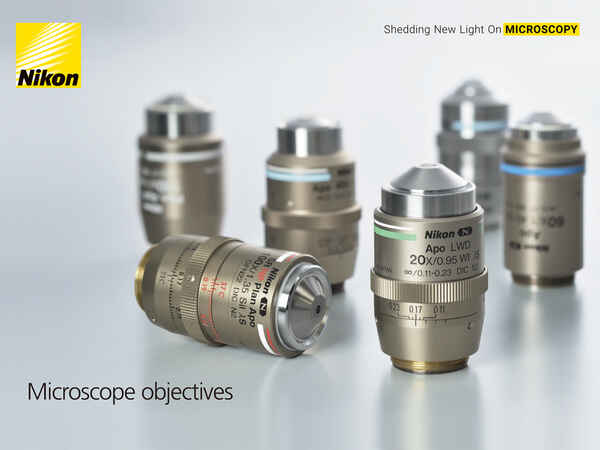 Our objectives help you focus on yours
Objective lenses are arguably the most important element in the microscope. Nikon has been developing optical technologies since 1917 with the establishment of Nippon Kogaku KK (Japan Optics). The JOICO microscope with interchangeable objectives and revolving nosepiece was first introduced in 1925. With over 100 years of dedication to the development of optics, Nikon continues to innovate and produce breakthrough optical technologies to help accelerate scientific research.
In tireless pursuit of the highest quality
Nikon has been developing optical glass since its inception in 1917, and to this day, wholly owns and formulates all of its glass.
It Starts with the Glass
Optical glass starts as an ingot (shown on right) which is formed by blending rare earth elements and repeated melting, shaping and slow cooling to achieve a target refractive index. The glass ingots are precision-cut, polished and coated to produce lens elements for the objective.
Mastering Excellence
The front lens of high-performance objectives is hand-polished by Nikon's most highly skilled experts (shown on left), a technique requiring more than a decade to master. By controlling the entire manufacturing process from glass formulation to assembly and alignment of lens elements, Nikon ensures the highest quality and performance of its objectives.
Objectives Inspired by Your Science
Produced to exacting standards, Nikon's objectives provide exceptional detail and clarity. The highest level of image quality can be achieved whether it be for routine tasks or cutting-edge research.
A tool for finding the right objective
Nikon's online Objective Selector tool enables you to quickly and easily find the right objective for your application. Refine your search based on application, technique, objective class, immersion type, etc. Specifications for multiple objectives can be displayed in a single window for easy comparison.
For OEM and DIY
With over 100 years of experience in developing optical technology, Nikon offers a wide range of components that can fulfill almost any optical requirement.
Nikon develops products to the highest standards, from design to manufacture, to ensure we meet the needs of a wide variety of customers.
For detailed specifications including dimensions and transmission information, please refer to the following website.