Dr. Jacopo Lucci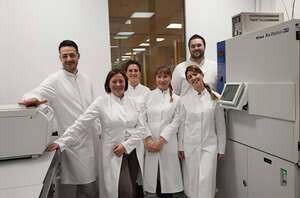 Chief Scientific Officer at Natural Bio-Medicine SpA,
Aboca Group
Attrezzatura Nikon
A brief summary of of Dr. Lucci's research
Dr. Jacopo Lucci is Chief Scientific Officer at Natural Bio-Medicine SpA, Aboca Group, a research facility aimed at characterizing the reaction of different mammalian cell cultures to extracts of herbal origin.
Dr. Jacopo's main interest is to establish novel, Systems Biology-based approaches to the study of complex substances. He obtained his PhD jointly from EMBL-Heidelberg in Germany and the University of Milan, Italy. Subsequently, he worked as a postdoc in the Max Plank Institute of Immunobiology and Epigenetics in Freiburg, Germany.
Dr. Lucci's Nikon imaging system
Dr. Lucci chose the Biostation CT for his work because it is the only mid-throughput screening platform that matches imaging in a controlled environment with very high quality optics and automated software analysis. He aims to use this instrument to study the kinetics of cell growth, changes in cell morphology, cell movement and nuclear-cytoplasmic shuttling in the fields of adipose tissue, inflammation, cancer and Es-cells biology.