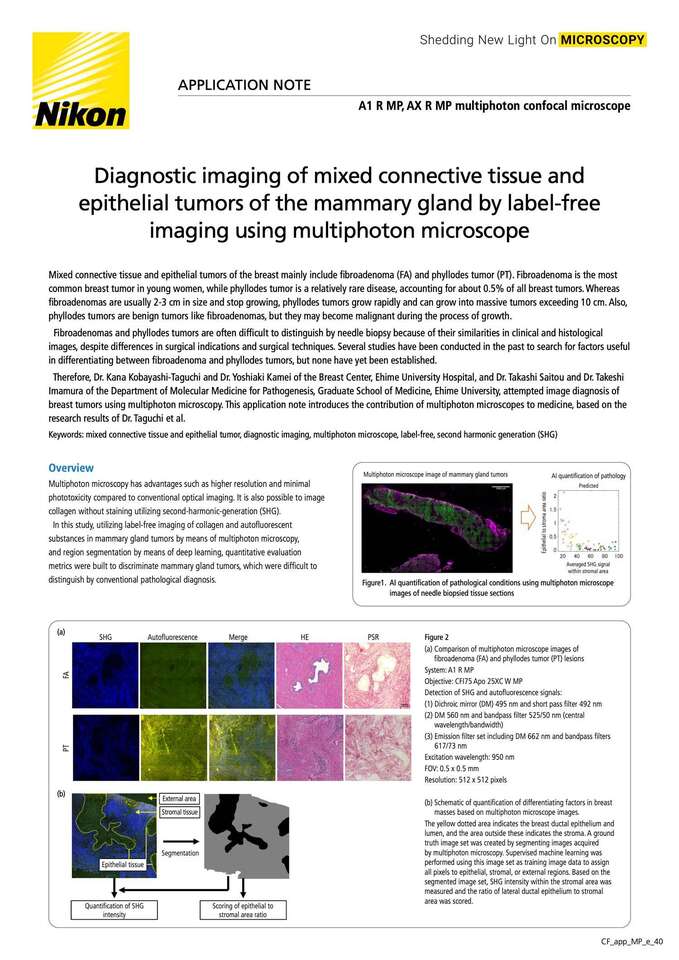 Diagnostic imaging of mixed connective tissue and epithelial tumors of the mammary gland by label-free imaging using multiphoton microscope
aprile 2023
Mixed connective tissue and epithelial tumors of the breast mainly include fibroadenoma (FA) and phyllodes tumor (PT). Fibroadenoma is the most common breast tumor in young women, while phyllodes tumor is a relatively rare disease, accounting for about 0.5% of all breast tumors. Whereas fibroadenomas are usually 2-3 cm in size and stop growing, phyllodes tumors grow rapidly and can grow into massive tumors exceeding 10 cm. Also, phyllodes tumors are benign tumors like fibroadenomas, but they may become malignant during the process of growth.
Fibroadenomas and phyllodes tumors are often difficult to distinguish by needle biopsy because of their similarities in clinical and histological images, despite differences in surgical indications and surgical techniques. Several studies have been conducted in the past to search for factors useful in differentiating between fibroadenoma and phyllodes tumors, but none have yet been established.
Therefore, Dr. Kana Kobayashi-Taguchi and Dr. Yoshiaki Kamei of the Breast Center, Ehime University Hospital, and Dr. Takashi Saitou and Dr. Takeshi Imamura of the Department of Molecular Medicine for Pathogenesis, Graduate School of Medicine, Ehime University, attempted image diagnosis of breast tumors using multiphoton microscopy. This application note introduces the contribution of multiphoton microscopes to medicine, based on the research results of Dr. Taguchi et al.