Nikon Instruments Releases New Microscope Objective for Whole Brain Imaging at Neuroscience 2017
nov. 13, 2017
New CFI90 20XC Glyc objective lens combines large field-of-view, high numerical aperture and long working distance for high-resolution, deep-tissue imaging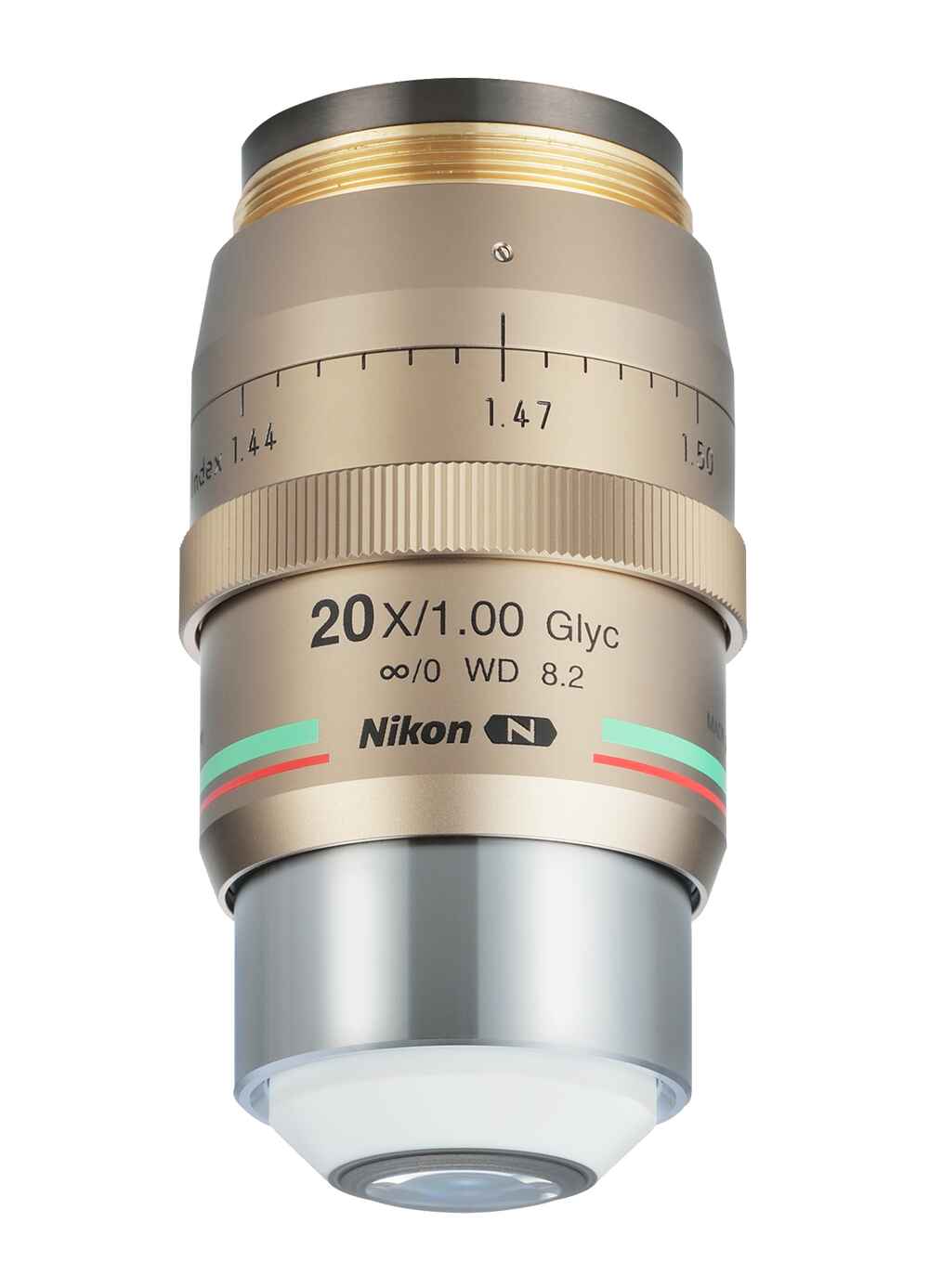 Nikon Instruments Inc., an industry leader in advanced optical instruments, is debuting the CFI90 20XC Glyc, a cutting-edge microscope objective capable of deep imaging of whole, cleared tissues, at the Society for Neuroscience's annual Neuroscience 2017 meeting in Washington, D.C. this week. Designed to support cutting-edge neurobiology research, this microscope objective combines large field-of-view, high numerical aperture and long working distance (8.2mm) to revolutionize how researchers capture data of larger samples, such as whole brains. Conference attendees can also experience some of Nikon's new and state-of-the art multiphoton, confocal, super-resolution and optogenetics systems configured for neurobiology applications at booth #2422.
"The new CFI90 20XC Glyc objective lens achieves a unique parfocal distance of 90 mm, resulting in both a large field-of-view and high numerical aperture. This combination enables high-throughput imaging with exceptionally bright, high-resolution images and has the potential to provide significant advantages in brain imaging applications like neural network mapping." said Steve Ross, Ph.D., General Manager, Products and Marketing, Nikon Instruments Inc.
The CFI90 20XC Glyc lens also achieves a high degree of chromatic aberration correction in the near infrared range and utilizes Nano Crystal Coat technology for high transmittance and superior signal collection from deep inside whole tissues.
The new objective lens is compatible with a wide range of immersion media and tissue clearing agents, and its correction collar accommodates a broad range of refractive indices (1.44-1.50) to provide bright, clear images throughout the entire specimen by correcting spherical aberrations caused by observation depth and temperature changes.
In addition to the new objective lens, Nikon will also showcase a collection of state-of-the art super-resolution, multiphoton, and confocal systems.
Even more from Nikon Instruments
NEW Large format multiphoton for intravital imaging. The open architecture of this system accommodates a wide range of sample types and staging options for custom intra-vital imaging. It features a high-definition 1K-resonant scanner for ultra-high speed, high-resolution imaging, behavioral observation cameras, and lifetime imaging options. This multiphoton system is an ideal platform for the new 8.2 mm working distance, 1.0 N.A. 20xC Glyc objective for cleared tissue imaging applications.

NEW Optogenetics with confocal imaging. With multiple microscope body and staging options to fit your application needs, this system allows for simultaneous stimulation of multiple ROIs for neuronal control. It also features point-scanning or spinning disk confocal to capture neuronal response.

NEW STORM 5.0 Single Molecule Super-Resolution. Utilizing powerful molecule data visualization and analysis tools, this system takes advantage of a fully customizable illumination sequence capability and can capture single molecule resolution in 3D with Z-stacking. It also features a silicone objective lens for deep single-molecule imaging.

NEW N-SIM Structured Illumination Super-Resolution. Offering two-fold improvement in resolution in 3D, this system features a 4x larger field of view than traditional SIM. A new silicone objective lens enables super-resolution imaging of thicker samples and streamlines and multi-modal imaging workflows.

NEW ECLIPSE Ti2 Inverted Microscope for Large FOV Imaging. Nikon's all-new inverted microscope platform for advanced imaging features an ultra-wide 25mm FOV, 4th Generation PFS for Perfect Focusing, super-stable platform and Z-drive for nanoscale imaging, automatic Correction Collar for perfect point spread functions and an accessible back-aperture for laser alignment.

Flexible LAPP Illuminators for Multimodal Imaging. Modular illuminators to flexibly combine multi-angle TIRF, FRAP, and Optogenetics with SR, Confocal and MP.

High-performance Macro Imaging solutions

The AZ100 allows for high-resolution, high-contrast, on-axis imaging and can easily combine with confocal for macro-confocal imaging.
The SMZ25/18 is known for its high-resolution stereoscope imaging with the world's largest zoom ratio.
Neuroscience 2017 attendees are invited to experience all of the above systems and products at Nikon's booth #2422.
Nikon Instruments Releases New Microscope Objective for Whole Brain Imaging at Neuroscience 2017