Benchtop Scanning Electron Microscope
A powerful yet economic benchtop scanning electron microscope from Nikon and JEOL.
The latest in benchtop SEM technology, the JCM-6000Plus "NeoScope™" is a touch panel controlled, multifunctional desktop scanning microscope that answers the increasingly diversified needs among users worldwide. The JCM-6000Plus is equipped with the high-sensitivity semiconductor detectors found in high-end instruments, making it easy to acquire contrast information about specimen composition, and enabling efficient analysis. The series continues to include the high-vacuum functionality and secondary electron detector, offering the ability to clearly observe fine structures on the specimen surface at high magnification.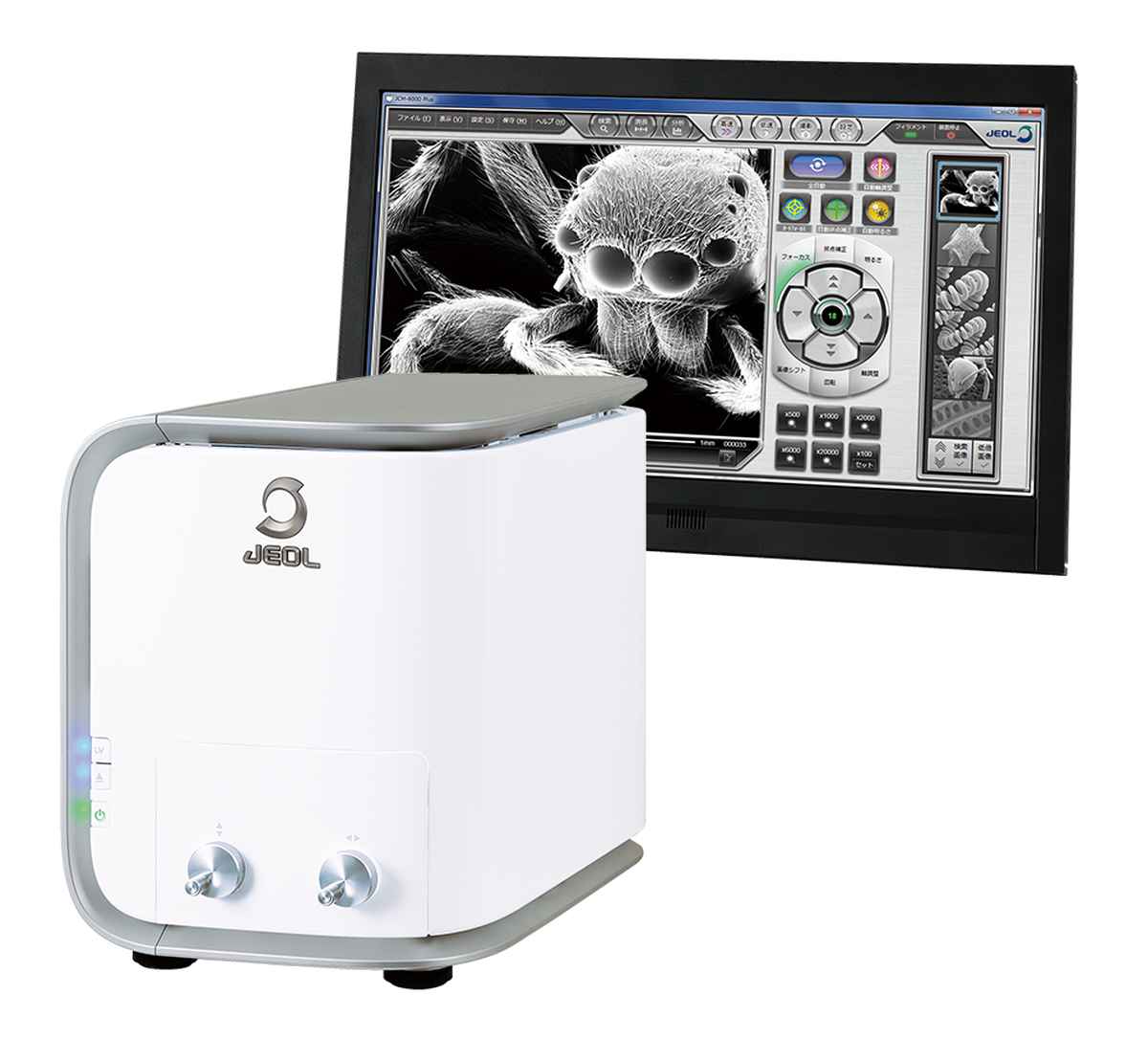 ---
Key Features
High performance system in a compact, innovative model
Intuitive touch panel operation with new GUI.
Well focused high-resolution morphological observation.
Secondary electron as well as backscattered electron imaging for compositional distribution.
Selectable accelerating voltages.
High and Low vacuum operation.
Full-featured Energy-dispersive X-ray Spectroscopy (EDS) with SDD technology (Optional).
Metrology supported.
Imaging of tilted, rotated samples (Optional).
---
Compact, light, and energy saving
Compact body equal to an optical microscope.
Base unit: 330mm (W) x 490mm (D) x 430mm (H); 50 kgUtility: Single phase 100 V to 240 V, 50/60 Hz, 700 to 960 VA
---
New capabilities for imaging
Secondary electron imaging and backscattered electron imaging supported at high vacuum
New high sensitivity solid state backscattered electron detector provides both composition and topographic imaging information
Dual frame imaging to facilitate comparison of live and retrieved images
A wide magnification range from 10x (for wide area of view) up to 60,000x.
---
Enhanced low vacuum capability
New solid state backscattered electron detector.
Easy observation of non conductive samples in the direct low vacuum mode.
Only 2 minutes 30 seconds from sample loading to imaging.
---
Simple operation
Easy touch panel operation.

A complete range of automated functions (auto focus, auto stigmator, auto contrast/brightness).
Easy, dependable auto gun alignment (filament centering).
---
Tilt/rotation motor drive holder
The tilt/rotation motor drive specimen holder allows the operator to tilt and rotate the sample for well focused 3D morphological observation.
---
Optional accessories
Energy dispersive X-ray spectrometer (EDS) for elemental analysis
Energy dispersive X-ray spectrometer (EDS) for elemental analysis.
JEOL's proprietary EDS.
Quick, reliable customer support guarantees satisfaction.
Note: This option is retrofittable
---